120 Cottages to be built in Kedarnath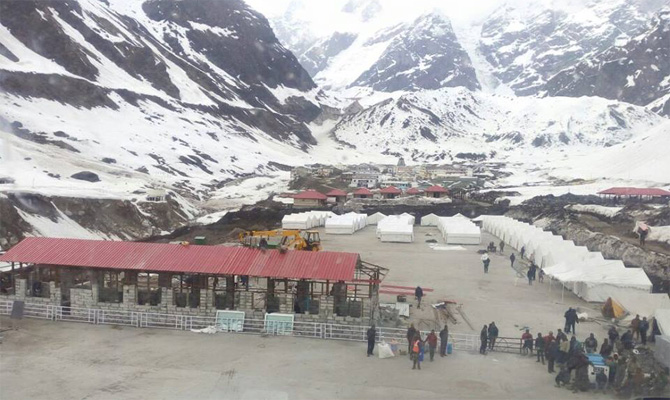 Kedarnath ready to welcome pilgrims
On his recent visit to Kedarnath, Former Chief Secretary told that important construction material for new Cottages and reconstruction work will be reached by 31st Dec. There is also working going on land selection for new cottage construction at Lincholi & Chaani camp.
Bridges and Cottages Construction in Kedarnath & Sonprayag
All measures are taking for the constructions of as many cottages in Kedarnath Dham and nearby places before the starting of next Char Dham Yatra season. Information on development of Bathing Ghat and under construction of security wall also exchanged between NIM and former Chief Secretary. He visited Sonprayag after Lincholi. Here Mr Sharma takes information regarding bridge construction by Echro US company.
Village head of Gaurikund Rakesh Goswamy and other villagers met Mr Sharma to describe the present situation of Gaurikund. They told Chief Secretary about difficulties in getting permission of reconstruction of homes after 2013 disaster. Mr Sharma told them that state government is in the process of making plans for Gaurikund.
A team will visit the places in January next year and make the plans for reconstruction for Taptkund. Disaster Management Secretary Amit Negi, SDRF Commandant, NIM Principal Col Ajay Kothiyal, DM Dr Raghav Langer etc are present at that moment.
Helicopter will supply Construction material
Government has decided to supply the construction material for 120 new cottages and other construction in Kedarnath by MI-17 Helicopter. From 5th Dec this helicopter will take flight from Gochar and Guptkashi to Kedarnath. There is helipad reconstruction work going on in Kedarnath for landing of MI-26 helicopter and helipad behind Kedarnath temple.
News Src : Rudraprayag, Amar Ujala
---
---
Published Date: November 26, 2015
Last Updated On: March 7, 2016
---