Annkoot Fair is celebrated at Kedarnath a night before Rakshabandhan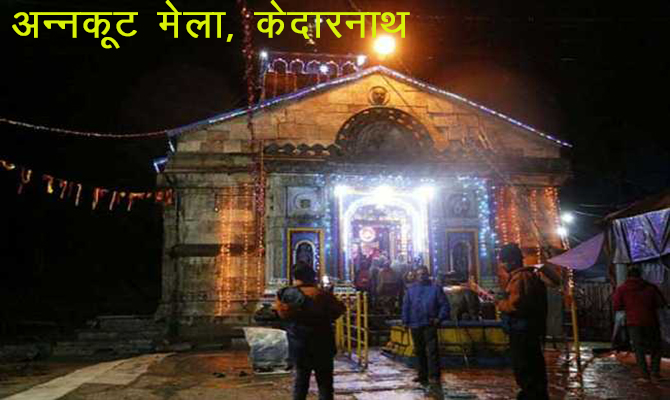 Annakoot Fair celebrated in Kedarnath
On the auspicious occasion of Annkoot Fair in Kedarnath, devotees take darshan of Shivling all night. Celebrated a day before the Rakshabandhana, the fair was organized from midnight on Monday, which continued till 4 o'clock in the morning.
Annkoot Fair is also locally known as Bhatuja fair and celebrated whole night before the day of Rakshabandhan. The Bhatuj festival is also celebrated with great fanfare in Ukhimath Shiva Temple and Vishwanath temple Guptakashi.
Annakoot fair (Bhatuj) is organized at Kedarnath Temple and the chief priest of Kedarnath temple Bagesh Ling specially worshiped Lord Shiva, after which Lord Kedar is decorated with new grains mixture made of rice and other locally produce grains.
From around 12 o'clock in the night, devotees take darshans of Bhole Baba, which lasted till about five o'clock. After this, this coating of grains is removed and whole temple is cleaned. After the cleaning of the temple, the temple committee employee starts regular worshiped in the morning at the temple.
---
---
Published Date: August 7, 2017
Last Updated On: August 9, 2017
---