Badrinath Dham Excursions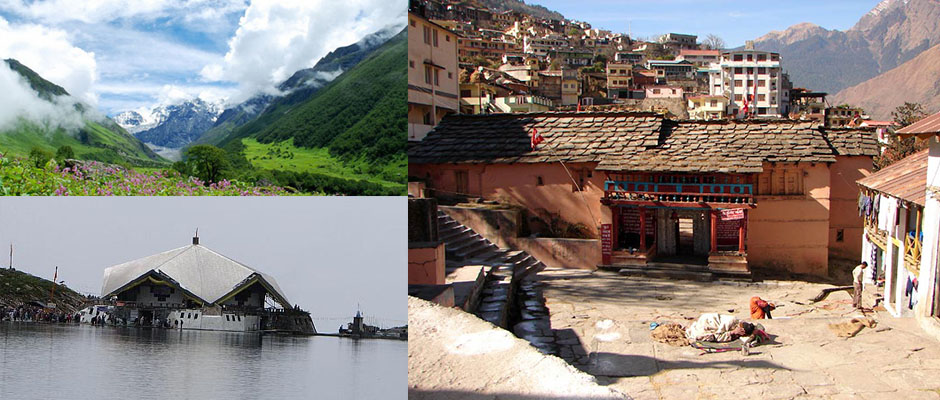 Badrinath Excursion
Important Tourist places near Badrinath in Uttarakhand.
There are many pilgrimage and tourist places near Badrinath Temple, some of them are trekking and skiing destinations as well. Following is the list of Badrinath excursions, which pilgrimages can visit during their Char Dham Yatra or Badrinath Tour.
Places To Visit Near Badrinath
Pandukeshwar: This place is believed to have been established by King Pandu, father of Pandavas. It is situated at 4 kms from GovindGhat, 219 kms from Kedarnath and 24 kms from Badarinath. There are two temples – one for Lord Yoga Badari Narayan and the other for Lord Vasudev. During winter, Lord Vasudev temple functions as the abode for Lord Badari Narayan and all the daily rituals connected with worship are performed here. Both the temples are centuries old.
Govindghat: It is located between Joshimath and Badarinath, Govindghat is the starting point for the trek to the valley of flowers and Hemkund Sahib. There are few hotels in Govindghat and you can stay there if gates are closed.
Bhim Pul: It is a natural stone bridge over river Saraswati located at 3 kms from Badrinath near Mana village. Bheem Pul is also leads to Vasudhara Falls and Satopanth Lake.
Valley Of Flowers: It is an irresistible destinations for naturalists, ecologists, environmentalists, zoologists, ornithologists, trekkers, tourist and pilgrims, the valley was introduced to the world in 1937 as the Valley of Flowers by Frank S. Smith mountaineer, explorer and botanist. The valley of flowers remains snow covered from November to May but when the ice envelop thaws in June it is a signal for profusion of colors hidden in petals of alpine herbs to blaze during July & August.
Hemkund Sahib and Lokpal Temple: Hemkund Sahib is one of the most famous Gurudwara, located at an altitude of 4320 meters above sea level. Lying in heavenly environs, the place is revered both by Hindus and Sikhs, as well as for people from other faiths it is an important pilgrimage.The glaciers from Hathi Parvat & Sapt Rishi Peaks feed the lake and small stream called Himganga flows out to this lake.
It is also believed that Lakshman, the younger brother of Lord Ram, meditated by the lake and regained his health after being severely wounded by Meghnath, son of the demon King Ravana, during battle. There is a Sikh Gurudwara and a Lakshman temple built on the bank of the lake.
Joshimath: it is the first math established by Shri Adi Sankara and is located at a distance of 45 kms from Badrinath Temple. Adi Sankara is believed to have got enlightenment here and authored Sri Sankara Bhashyam.
Auli : It is a famous skiing destinations of India with natural slopes perfect for skiing. Auli in the Himalayas of Uttarakhand offers exciting skiing opportunities to beginners and advanced skiers. Just 16 km from Joshimath on the Badarinath route, Auli offers a 180 degree of panoramic view of Himalayan peaks like the Nanda Devi (7817 m), Kamet (7756 m), Mana Parvat (7273 m) & Dunagiri (7066 m).
Adi Badri: The main Temple is of the lord Narayan that is distinguished by a raised platform in the pyramidal form. Here a black stone idol of lord Vishnu is enshrined. Local tradition attributes the building of the temples to Adi Guru Shankaracharya. It is situated at a distance of 17 Kms from Karnaprayag and is easily approachable by motorable road.
---
---
Published Date: March 1, 2016
Last Updated On: March 23, 2017
---