Char Dham Bus & Taxi Rates (Roadways, GMOU & Private)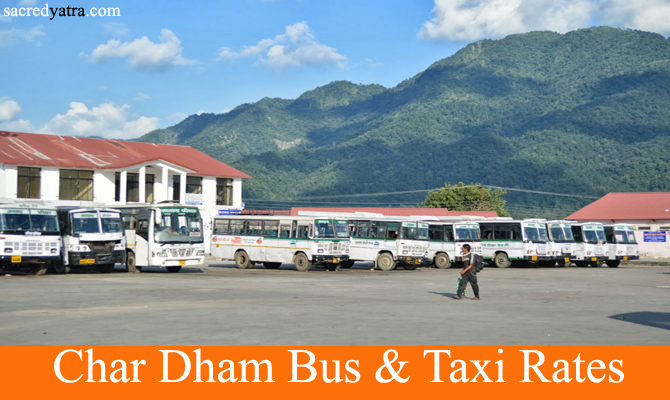 Char Dham Yatra Bus Taxi Tariff Rates
Check Latest Chadham Bus & Taxi Tariff (Roadways/ GMOU/ Private)
Char Dham Yatra has starting point at Rishikesh. Pilgrims can take Bus, Taxi or Maxi from Rishikesh for Char Dham Temple (Badrinath, Kedarnath, Yamunotri & Gangotri). Rishikesh Bus Station has best facilities where pilgrims can easily get registered and visit to Chardhams in Bus, Taxi or Maxi. From Rishikesh Combined Rotation Service of buses for Chardham carry passengers in a serial wise manner and on fixed tariff.
Here one can find latest tariff for bus or taxi for Char Dham of Uttarakhand Roadways bus, GMOU and Private operators. Tariff for Char Dham Yatra depends on number of Dhams to visit and pilgrims can also bargain on some tariff with the private operators.
Latest Char Dham Yatra Bus & Taxi Rates in 2017
Check the latest Chardham Yatra Bus, Taxi & Maxi rates as per Cobined Roatation Service, GMOU and private taxi/ maxi operators.
Char Dham Taxi Rates

| | |
| --- | --- |
| Dham (from Rishikesh) | Fare (in Rs) |
| One Dham (Badrinath) | 8500 |
| Two Dhams (Badrinath, Kedarnath) | 14000 |
| Three Dham (Badrinath, Kedarnath, Gangotri) | 20000 |
| Char Dham | 26000 |
Char Dham Maxi Rates
| | |
| --- | --- |
| Dham (from Rishikesh) | Fare (in Rs) |
| One Dham (Badrinath) | 11000 |
| Two Dhams (Badrinath, Kedarnath) | 16000 |
| Three Dham (Badrinath, Kedarnath, Gangotri) | 22000 |
| Char Dham | 27000 |
Char Dham Bus Rates – Combined Rotation Yatra
| | |
| --- | --- |
| Dham (from Rishikesh) | Fare (in Rs per pilgrim) |
| One Dham (Badrinath) | 1130 (DLX – 1720) |
| Teen Dhams (Badrinath, Kedarnath, Yamunotri) | 1530 (DLX – 2330) |
| Teen Dham (Badrinath, Kedarnath, Gangotri) | 2340 (DLX – 3560) |
| Char Dham | 2690 (DLX – 4080) |
Char Dham Bus Rates – Roadways Buses

| | |
| --- | --- |
| Dham (from Rishikesh) | Fare (in Rs per pilgrim) |
| One Dham (Badrinath) | 1010 |
| Two Dhams (Badrinath, Kedarnath) | 1365 |
| Char Dham | 2400 |
Char Dham Bus Rates – GMVN BUS with Complete Package (27 Seater, 2 by 2)
| | |
| --- | --- |
| Dham (from Haridwar) | Fare (in Rs per pilgrim) |
| One Dham (Badrinath) | 7000 |
| Two Dhams (Badrinath, Kedarnath) | 9000 |
| Three Dham (Badrinath, Kedarnath, Gangotri) | 11500 |
| Char Dham | 15380 |
Char Dham Bus Rates – Private Bus with Complete Package (14 Seater)
| | |
| --- | --- |
| Dham (from Haridwar) | Fare |
| Two Dhams (Badrinath, Kedarnath) | 24000 |
| Char Dham | 46000 |
Char Dham Bus Rates – Private Bus with Complete Package (28 Seater)
| | |
| --- | --- |
| Dham (from Haridwar) | Fare |
| Two Dhams (Badrinath, Kedarnath) | 35000 |
| Char Dham | 70000 |
---
---
Published Date: April 18, 2016
Last Updated On: March 21, 2017
---