Kedar Valley resonated with the sound of Jai Bhole Bhandari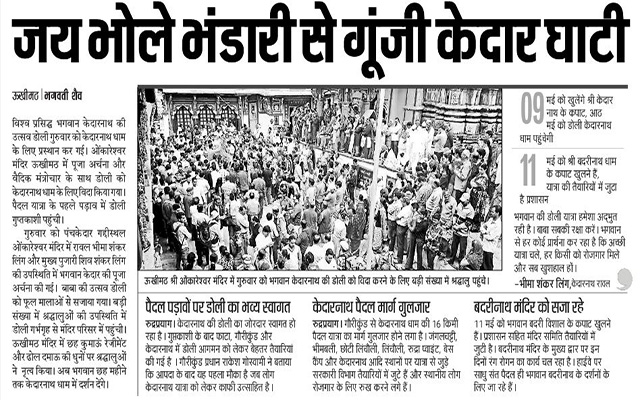 Kedar Valley resonated with the sound of Jai Bhole Bhandari
The most awaited Yatra, Kedarnath has been started now. The portal of Kedar shrine will be opened on 09 May 2016. On last thursday, the doli of Kedarnath has departed towards the temple. After offering prayers and rituals at Omkareshwar Temple Ukhimath, the Doli was headed to Kedarnath Temple. Utasav Doli was decorated with flowers.
Grand Welcom of Doli at all pedestrian stages
People of Guptkashi, Phata, Gaurikund & Kedarnath are waiting to welcome Kedarnath Doli. All preparation has almost done, after the grand welcome at Guptkashi, now the doli is headed towards Phata. On the other side, route of Gaurikund for Kedarnath has cleared and all security force has already present there. After the disaster, this is the first time when every one wants to do something for Yatra, people are excited for the Kedarnath Yatra and also stepping forwards for earning some money too, because for many people this Yatra is the only source of income.
---
---
Published Date: May 6, 2016
Last Updated On: May 6, 2016
---