Kedarnath Places to See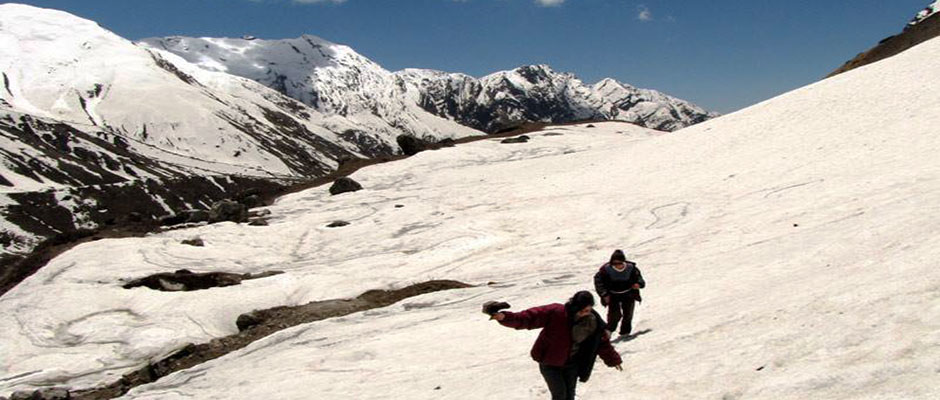 Chorabari Tal (Gandhi Sarovar)
Img Src
Places to visit in Kedarnath
Normally pilgrims pays a day's visit or at max 1 night for Kedarnath Dham. Thus few majestic and beautiful sightseeing places are missed by travellers. However if you are planning to visit in kedarnath dham for one or two days then don't miss the following places to see in Kedarnath.
There are various places of interest for every kind of visitor. While there is Gandhi Sarovar, Chandrashila, Vasuki Tal, Gauri Kund, Sankaracharya Samadhi, Ukhimath, Panch Kedar, Tung Nath, Rudra Nath, DeoriaTal at the same time there is Chopta and Son Prayag for the nature lovers.
At Kedarnath there are several Kunds that are known for their religious significans – Shivkund, Retkund, Hanskund, Udakkund, Rudhirkund are the most important.
Gandhi Sarovar: A small lake from where Yudhishthir, the eldest of the Pandavas, is said to have departed to heaven.
Shankaracharaya Samadhi: Shankaracharya Samadhi poses as an idyllic and tranquil location to the devotees. The magnificent temple in the backdrop adds its serenity. It is believed that Adiguru Shankracharya took samadhi at this place.
Bhairavnath Temple: Bhairon Mandir is located 1 kms from the Kedarnath Temple. From the here one can see the entire Kedarnath valley and Kedarnath Shrine. It is believed that when Kedarnath dham is closed for winter due to heavy snowfall, the deity in form of bhairavnath protect the kedarnath temple complex as well as whole kedarnath valley.
Ratus Kund: It is small kund (water source) around 200 mts from Kedarnath temple. Ratus kund also knows as ret kund due to sand in this small tank.
Gaurikund: Base for a trek to Kedarnath & serves as a roadhead, the village has hot springs & a temple dedicated to Gauri.
Vasuki Tal : 6 km. At 4135 mtr. above sea level, this lake is extraordinary, surrounded by high mountains and offering an excellent view of the Chaukhamba peaks.
Sonprayag : The confluence of the Son Ganga and Mandakini rivers, where there is a diversion for Triyuginarayan.
Trekking near Kedarnath
Kedarnath Trek (14 kms): Reaching Kedarnath is itself a moderate trek of 14 kms from Gaurikund. You will get lot of ponies, palkies and potters, to make your trek more comfortable. Rambara is the midway of the Kedarnath trek
Vasuki Tal (6 kms): This trek is 6 kms from Kedarnath Temple. It is a well known trek because of its panoramic beauty and it is a moderate trek.
Chorabari Tal (3 kms): It is a small lake which is touched with Chorabari glacier in the foots of Kedarnath Parbat. It is also known as Gandhi Sarovar, as Mahatma Gandhi once did meditation here. The haunting environment and secluded surroundings compel all the visitors to feel the inner connection with the Almighty.
Bhairon Temple (1 km): It is small trek to the nearby Bhairon Mandir. It is said that one should visit this open temple as well during their Kedarnath dham yatra.
There are many other famous and virgin trekking options as well from Rudraprayag to Gaurikund.
Festivals in Kedarnath
Vinayak Chathurthi and Deepawali are celebrated here during the months of September and October.
Shravani Annakoot Mela is celebrated on the day before Raksha Bandhan during August.
Special Samadhi Pooja is held on the closing day of Kedarnath temple.
---
---
Published Date: March 2, 2016
Last Updated On: January 30, 2017
---