Kedarnath : Road and pedestrian trek route becomes vulnerable due to rain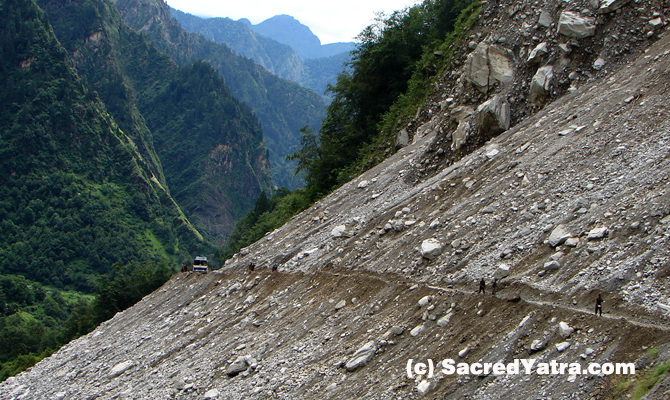 Damaged Roads on Badrinath Highway
Road conditions on Badrinath Highway
The task of keeping Kedarnath yatra smooth and hassle free is no less than a challenge for the administration. The frequently changing weather is posing threats in front of roads and pedestrian route.
So far, the Kedar nath yatra has been called off approximately for nine days in breaks due to bad weather conditions. The rainfall is taking toll on many things from damaging roads to blocking routes. Owing to this the administration is facing difficulties in mobilizing the necessary facilities in major yatra stops.
Rudraprayag-Gaurikund national highway is in bad condition with several vulnerable stretches at different places between Tilwara and Sonprayag. The treatment of earthquake affected zone in Banswada has also not been done till now.
The falling debris in Vijayanagar, Agastyamuni from the hill is posing as matter of risk. Along with collapse of bridge built over Mandakini river, the national highway also washed away of nearly 50 mts length from two places. Sonprayag-Munkatiya and Gaurikund-Kedarnath pedestrian route is also posing threat in many places.
News Source : Amar Ujala, Rudraprayag
---
---
Published Date: July 3, 2015
Last Updated On: July 4, 2015
---