Landslide near Badrinath – Everything is Under Control Now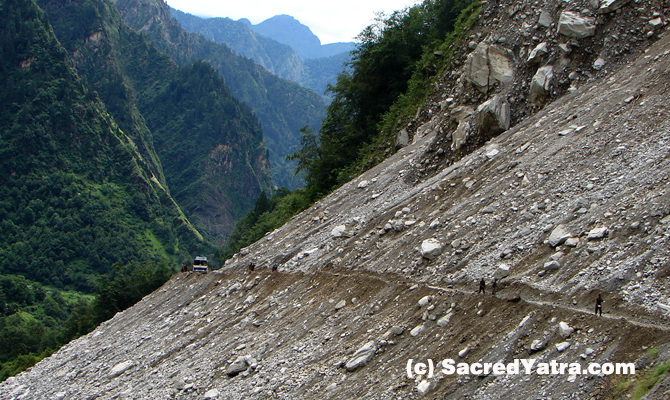 Damaged Roads on Badrinath Highway
Road conditions on Badrinath Highway
At least 15,000 tourists are stranded after a landslide near Vishnuprayag on the Badrinath route, which has effected the "Char Dham Yatra" in the Uttarakhand State. District Collector Ashish Joshi said that BRO (Border Roads Organisation) personnel are engaged in clearing the roads and it could be opened for the traffic by the afternoon tomorrow.
He also said efforts are on to provide all facilities to 1,000-1,500 pilgrims who are at Joshimath, Karnaprayag, Pipalkoti, Govindghat and Badrinath. Meanwhile, a spokesperson for the Uttarakhand government told AP that state authorities have rushed food and water to the stranded pilgrims and hope to clear the debris and restore movement of vehicles this weekend.
The landslide happened during the ongoing "Chardham Yatra" when almost 3.5 lakh pilgrims have visited the sacred temples in the state so far. People have taken note of great significance of Char Dham destinations in the state after the President of India visited Badrinath and Prime Minister of India visited Kedarnath this year.
But the good news is that the roads will open for traffic from Saturday afternoon. And there are no reports of injuries and casualties.
---
---
Published Date: May 19, 2017
Last Updated On: May 20, 2017
---