Preparations made for Gaadu Ghada Yatra to open Badrinath shrine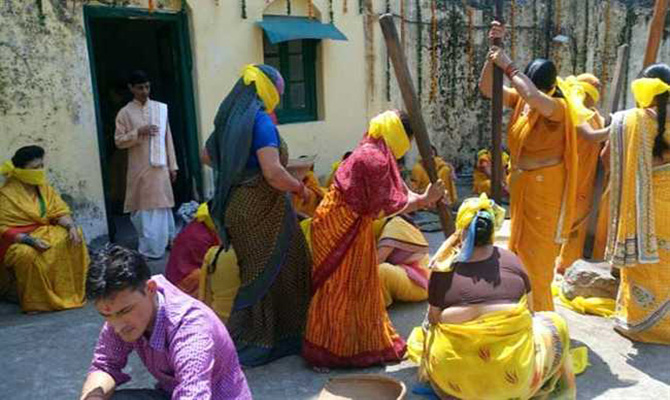 Preparations made for Gaadu Ghadi Yatra to open Badrinath shrine
The process of opening Badrinath shrine is started with the extraction of seasame oil for Gaadu Ghada yatra. A puja archana takes place at royal residence Narendranagar Palace for Ghoda Ghada yatra.
Around 10.00 am all married women started extracting seasame oil Gaadu Ghadi which will be used in the consecration of Lord Badrinath. The brahmins of royal family do the puja archana in the meantime. On this occassion Maharani Mala Rajya Lakshmi Shah and Maharaj Manujayendra Shah was present. After the extraction of seasame oil, Ghadu Ghadi yatra will leave for Rishikesh in the evening.
Gaadu Ghada Yatra Schedule
Ghadu Ghada yatra will reach Shrinagar on 23 April after the night halt at Chela Chaitram Dharmshala in Rishikesh. On 24 April it will reach Dimar village and will remain there for a week at Laxmi Narayan Temple of the village. The sacred kalash will leave for Joshimath on 03 May and reach Pandukeshwar on 04 May. Finally it will reach at Badrinath on 05 May and kapat will open on 06 May.
---
---
Published Date: April 22, 2017
Last Updated On: April 24, 2017
---