Steps taken by the Uttarakhand Government for safe & Convenient Chardham Yatra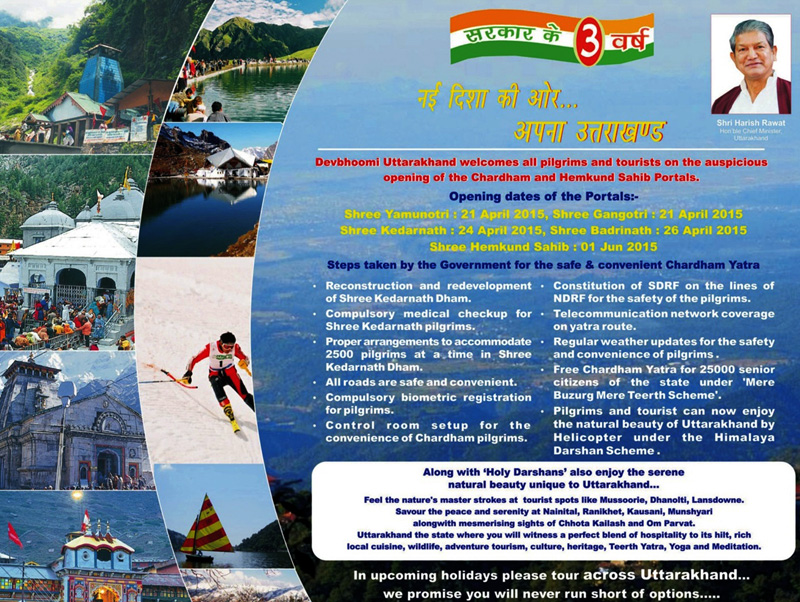 Uttarkhand Govt Char Dham Updates
Uttarkhand Govt Char Dham Updates and Preparations
Devbhoomi Uttarakhand Welcomes All Pilgrims And Tourists on the auspicious opening of the Chardham Temples and Hemkund Sahib Portals
Steps taken by the Government for the safe & Convenient Chardham Yatra
Reconstruction and redvelopment Of Shree Kedarnath Dham
Compulsory medical Checkup for shree Kedarnath pilgrims
Proper arrangement to accommodate 2500 pilgrims at a time in Shree Kedarnath Dham
Alll roads are safe and Convenient
Control room setup for the convenience of Chardham pilgrims
Constitution of SDRF on the lines of NDRF for the safety of the pilgrims
Telecommunications network coverage on yatra route
Pilgrims and tourist can now enjoy the natural beauty of Uttarakhand by Helicopter under the Himalaya Darshan Scheme.
Along with Holy Darshans also enjoy the same natural beauty unique to Uttarakhand ..
Feel the nature's master strokes at tourist spots in Uttarakhand like Mussoorie, Dhanolti, Lansdowne. Savour the peace and Serenity at Nainital, Ranikhet, Kausani, Munshiyari alongwith mesmerising sights of Chhota Kailash and Om Parvat.
Uttarakhand the state where you will witness a perfect blend of hospilality to its hilt, rich local cuisine, Wildlife, adventure tourism, culture, heritage, Teerth Yatra and Meditation.
For further information you can Contact
Uttarakhand Tourism Development Board : 0135 – 2559898
Officail Website : www.uttarakhandtourism.gov.in
Garhwal Mandal Vikas Nigam Ltd : 0135 – 2746817, Website – : www.gmvnl.com
Kumaon Mandal Vikas Nigam Ltd : 05942 – 236209, 235700, Website – : www.kmvn.gov.in
---
---
Published Date: March 18, 2015
Last Updated On: March 18, 2015
---