Gangotri Weather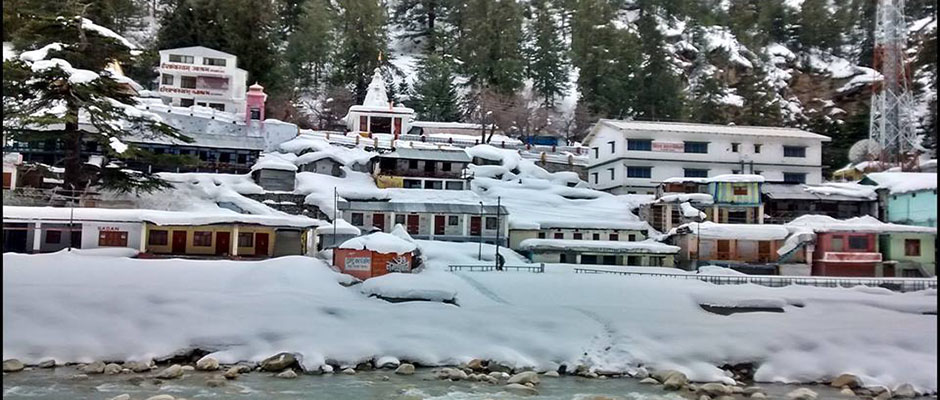 Gangotri Weather Updates
The average maximum
temperature of Gangotri
is about 10 to 15 degrees Celsius while the average minimum temperature easily goes below the zero degree mark. Warm and woolen clothes are a necessity almost all round the year, in Gangotri.
Latest (Current) Gangotri Weather Forecast
Gangotri in Summers
The summers in Gangotri are cool and winters are very cold, with rains in the months of May and June. The gates of Gangotri temple open during the start of summers. The weather is pleasant with observed maximum temprature around 25°C and can get very cold at night. This is the best season for pilgrimage and sightseeing trips.
Gangotri in Monsoons
Monsoons in Gangotri region starts from late July to August, and it makes difficult to reach the temple due to various landslides. Pilgrims are suggested to avoid travel during monsoon season.
Gangotri in Winters
Winter season starts from November to April, and the weather is freezing cold with heavy snowfall. Gangotri temple is closed during this period. Only pro-trekkers and mountaineers visit the area for various trekking expeditions near Gangotri.
Best Time to Visit Gangotri Temple
The best time to visit the holy city of Gangotri is from April to June and September to November. The temple is open from last week of April to second week of November.
Gangotri Monthwise Weather Details
---
---
Add Comments and Suggestions or Ask Questions about "Gangotri Weather"
We would be glad if you can comment below and provide your valuable suggestions and feedback on Gangotri Weather. If this Gangotri Weather page have any wrong information/list or out of context content, then you can report us as well.
If you have any questions, you can also ask as in the following comments section. Our team will try to provide you answers/solutions.