Char Dham Registrations – How to Register for Chardham Yatra in 2023
Latest Update on Char Dham Yatra Registraion
Chardham Yatra Registration has been started from 21 Feb 2023.
For Commercial / Private vehicle, Green Card/ Trip Card from Transport department Uttarakhand is compulsory. (https://greencard.uk.gov.in)
Check Latest Update . Follow Chardham Yatra News for latest Chardham Yatra updates.
As on 23 April : Apart from online, pilgrims can do offline registration at Chardham registration counters at Haridwar, Rishikesh, Barkot, Heena, Sonprayag, Pandukeshwar.
Char Dham Yatra is one of the holiest and sacred pilgrimage in India. All four shrines of Badrinath, Kedarnath, Yamunotri & Gangotri are visited by lakhs of pilgrims every year during Chardham Yatra season. Pilgrims need to do registration for Chardham Yatra.
Earlier since 2014, after the Kedarnath Flood, Uttarakhand government had started Photometric/ Biometric Registration of devotees mandatory who are visiting the Uttarakhand State for the Char Dham Yatra. The registration was being easily done online or at various Photometric/ Biometric Registration Counters at many destinations on Char Dham Yatra route.
Now in 2023, it is compulsory to have Chardham Yatra registration for every pilgrims for Char Dham Yatra. Pilgrims have to show QR code on mobile or Yatra registration letter which can be get after Char Dham registration, for darshan at Chardham Temples.
Registrations for Char Dham Yatra ePass for 2023
Chardham Yatra Registration is Compulsory for all the devotees who are interested to go for Chardham Yatra 2023. Chardham Yatra Registration is also known as Yatra epass, Yathra Permits, Registration Cards.

The state government has made arrangements for mandatory Chardham Yatra registration of the all the visitors. Also, each of the visitors could be tracked with a GPS-based monitoring system so that tourist flow can be check for a particular Dham and this will be help to make their journey safe as regular updates will be recorded for their location whether they are going for pilgrimage, adventure or Leisure holidays. Pilgrims can also avail special facilities by government such as food and lodging using Chardham Yatra Registration Card.
Advantages of Chardham Registration
Special Registration Card/ Yatra Card will issue to pilgrim after Char Dham registration
Registration card/ Yatra Card will help in tracking en-route pilgrims
Pilgrims can avail government services like food & lodging using registration card/ Yatra Card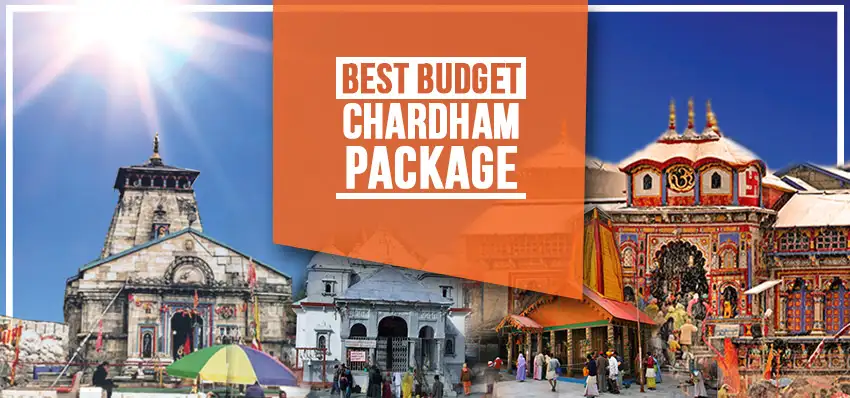 Different Ways for Chardham Yatra Registration
This year, Char Dham 2023, there are more options for pilgrims to do Char Dham Registrations. Here are different ways with which Pilgrims can do registrations for Char Dham Yatra in 2023.
Char Dham Yatra Registration Website
Like every year, pilgrims can register online for Char Dham Yatra through website registrationandtouristcare.uk.gov.in. Pilgrims can Register/Login using information including name, address, phone number etc.
Chardham Yatra Registration on Whatsapp
With the advent of new technology, now pilgrims can register for Chardham Yatra through messaging app WhatsApp. For this pilgrims need to type YATRA and send it to this WhatsApp number on 8394833833. After this, some questions will be asked from there only through the message, answering which pilgrims can easily register for Chardham Yatra.
Toll Free Number for Chardham Yatra Registration
Pilgrims can register for Chardham Yatra by calling on a toll free number 01351364.
Chardham Yatra Registration by App
Pilgrims can download and register at the touristcareuttarakhand app. This app is also very useful for pilgrims for getting information about Char Dham Yatra apart from registration.
Chardham Yatra Offline Registration Counters
Now pilgrims who were not able to do online registration can visit offline registration counters for Char Dham Yatra at Haridwar, Rishikesh, Barkot, Heena, Sonprayag, Pandukeshwar.
Chardham Registration Counters
Haridwar at Rahi Hotel
Rishikesh at ISBT
Rishikesh at RTO
Rishikesh at Gurudwara
Other Counters –
Barkot (Yamunotri)
Hina (Gangotri)
Sonprayag (Kedarnath)
Pandukeshwar (Badrinath)
Govind Ghat (Hemkunt Sahib)
How To Do Online Registrations for Char Dham Yatra 2023?
To getaway from long waiting lines of offline/ manual registrations lines at counters pilgrims can easily Register ONLINE HERE now. Pilgrims all need an email, mobile number, one of Id Proof such as Aadhar Number, Voter ID number, PAN number, Passport or Driving License.
Steps to do Char Dham Yatra Online Registration
Step 1
The very first step for Chardham pilgrims is to visit the Chardham Yatra Registration website . You will reach a webpage like below.
Step 2
Now click on Register/Login to get below Chardham Yatra 2023 Online Registration/ Login form.
Step 3
Now a online form asking for Personal Details for Chardham Yatra Registration. Each of the fields are mandatory.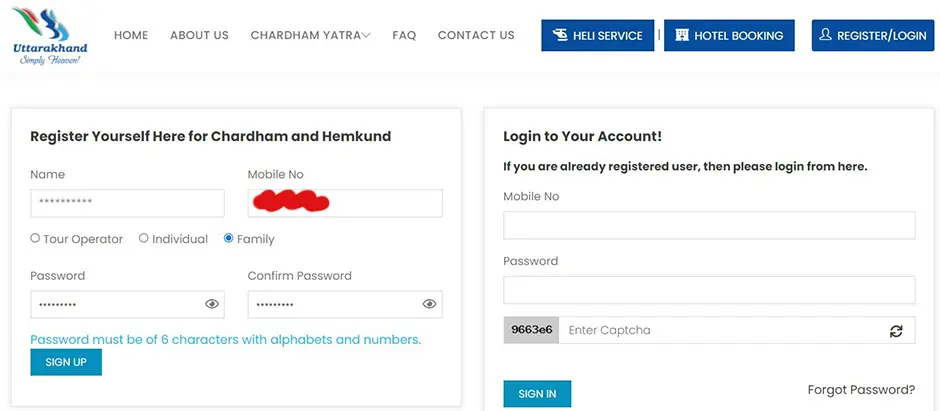 Step 4
Now Chardham Online Registration System will verify the registration through OTP verification which would received on mobile and email. Complete the OTP verification and click on Verify OTP button.
Step 5
Now you have to login using Mobile number & password. A personalize dashboard will be open one can Register Pilgrims information.
Step 6
Click on Add/ Manage Pilgrims or Tourist to open below window.
Step 7
Now add tour plan details such as Tour type, Tour name, Dates of Yatra, Number of tourists. Add each destination with date of visit and save the form.
Step 8
Finally a window showing details of Tour Name, Dates and Destination.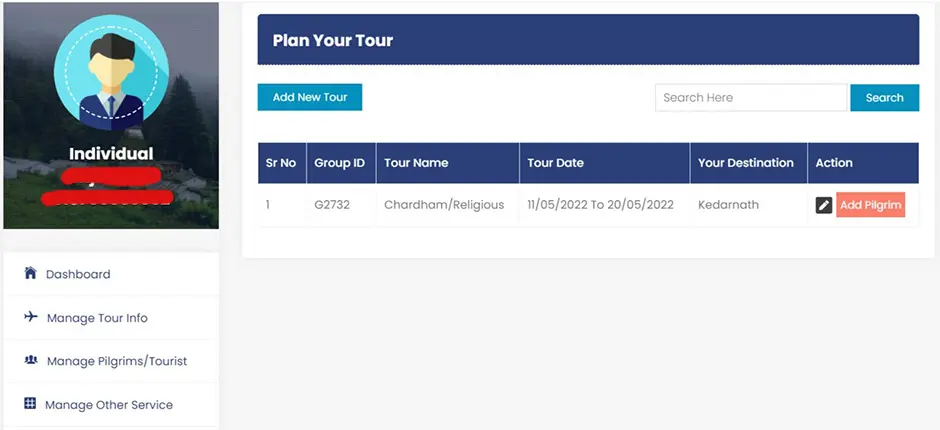 Step 9
Now add Pilgrims info using Add Pilgrim button.
Kindly note that for a single Chardham season, registration can be done using any valid Id. Kindly keep ready, a scan copy of photo id proof (AADHAR) / address proof in *.jpg, *.png format. The size of scan copy must be between 10kb to 150kb.
Step 10
After registration completion, a Unique registration number will be sent on sms and Registration Letter can now be downloaded for Chardham Yatra travel.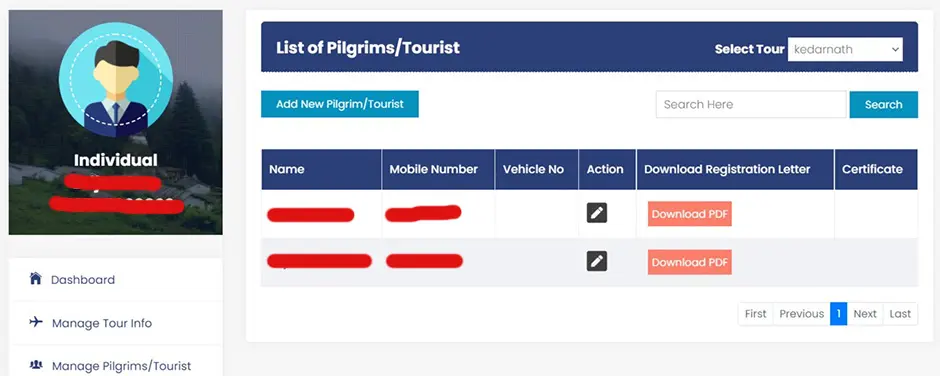 Wishing You A Happy Journey!! Jai Baba Badri….