Char Dham Yatra Guidelines & Latest SOP for Pilgrims
---
---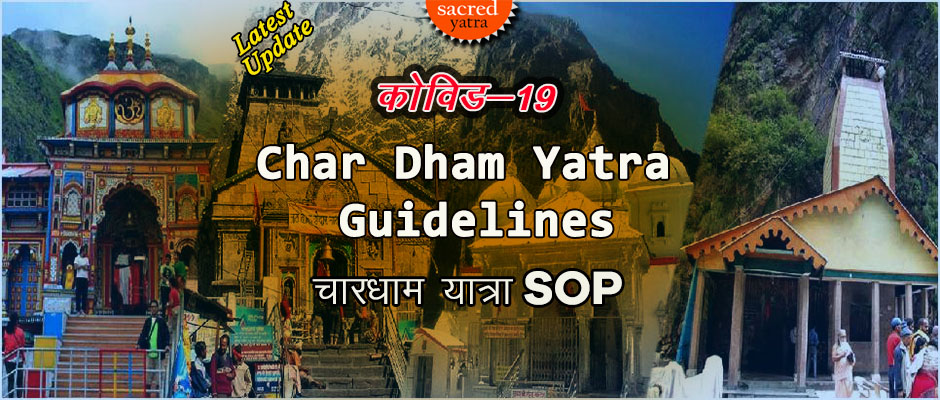 Chardham Yatra Guidelines
Covid Update for Chardham Yatra
Chardham Yatra is one of the revered pilgrimage in India. Since 2020, Covid-19 has effected Char Dham Yatra as well. Govt has been releasing Chardham Yatra Guidelines / SOP time to time with respect to Covid cases in Uttarakhand.
In 2020, Char Dham Yatra was started late in July month in limited manner. Total number of pilgrims who visit Char Dham Yatra in 2020 were 4.5 Lakhs only from 35 Lakhs in 2019. Now in 2021 Char Dham Yatra, Covid-19 is making an impact too.
---
---
---
---
Here we will provide latest Char Dham Yatra Updates in Covid-19 which will surely help you to plan your Chardham Yatra. Get latest Char Dham Yatra Guidelines, CharDham Yatra SOPs and every details to visit Chardham Yatra in Corona period.
06 Oct 2021 :
Now there is no upper limit for number of pilgrims to take Chardham darshans.
Chardham Yatra ePass
is not mandatory but registration in Smart City Portal for Chardham Yatra is mandatory now.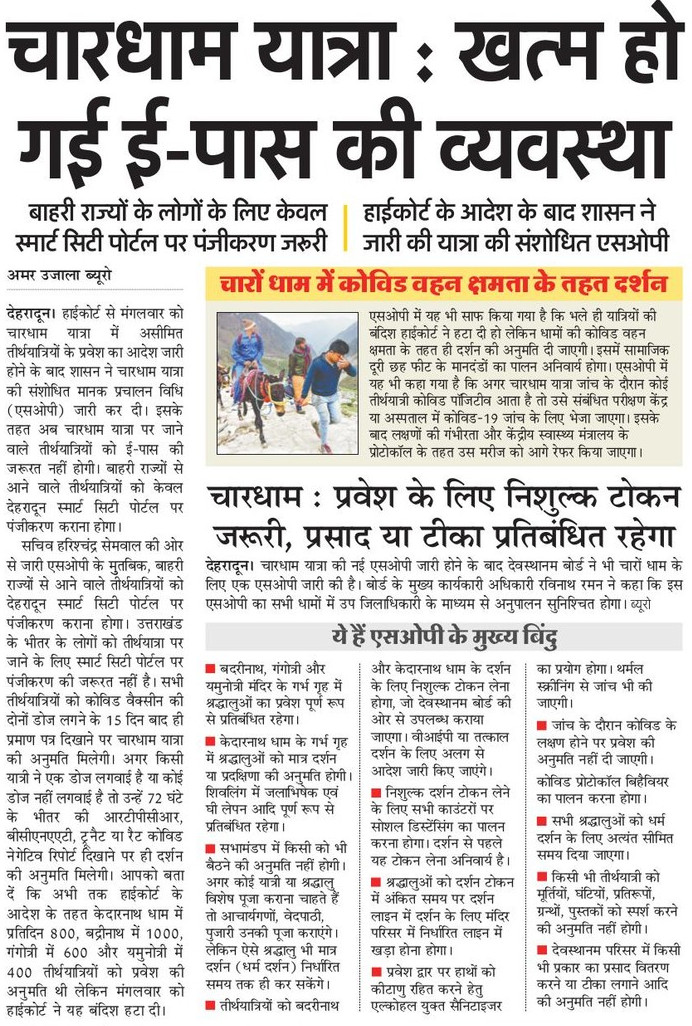 18 September 2021 :
Chardham Yatra starts today with New SOP.
As per new Govt SOP for Chardham Yatra, 
Chardham Yatra to start from 18 Sept 2021.
Chardham Yatra ePass
 is mandatory. Registration in Smart City Portal for entry into Uttarakhand State is mandatory. (http://smartcitydehradun.uk.gov.in/). For Commercial / Private vehicle, 
Green Card
/ 
Trip Chart Permit
 from Transport department Uttarakhand is compulsory. (https://greencard.uk.gov.in).
Read Complete Chardham Yatra SOP Here
16 September 2021 :
Uttarakhand High Court lifted the ban on Chardham Yatra. The Court has said only fully vaccinated people carrying covid negative report will be allowed to visit Char Dham. The high court said only 800 devotees will be allowed at Kedarnath temple, 1200 at Badrinath temple, 600 at Gangotri and 400 devotees at Yamunotri Dham in a day.
21 June 2021 :
Chardham Yatra to start from 01 July, Registration, e-pass & Covid Negative Test Report mandatory…
Read more
17 June 2021 :
Chardham Yatra may start from 01 July…

12 June 2021 :
Chardham Yatra may start soon in a phased manner…
Read more
20 May 2021 :
Online Puja Service started at Badrinath – Kedarnath…
Read more
19 May 2021 :
Chardham Yatra may start after Corona epidemic back to normal…
Read more
14 May 2021 :
Administration to start Online Chardham Darshan & Pooja facility…
Read more
12 May 2021 :
Refund for Kedarnath Heli Service started amidst postponement of Chardham Yatra…
Read more
04 May 2021 :
Chardham Yatra SOP released amidst Covid…
Read more
29 April 2021 :
Chardham Yatra Postponed due to Covid…
Read more
---
---
Published Date: May 22, 2021
---