Char Dham Yatra Guidelines & Latest SOP for Pilgrims
---
---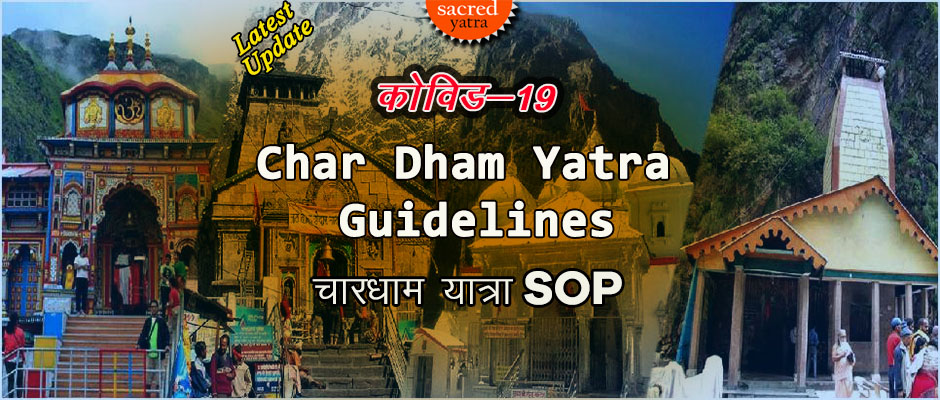 Chardham Yatra Guidelines
Covid Update for Chardham Yatra
Chardham Yatra is one of the revered pilgrimage in India. Since 2020, Covid-19 has effected Char Dham Yatra as well. Govt has been releasing Chardham Yatra Guidelines / SOP time to time with respect to Covid cases in Uttarakhand.
In 2020, Char Dham Yatra was started late in July month in limited manner. Total number of pilgrims who visit Char Dham Yatra in 2020 were 4.5 Lakhs only from 35 Lakhs in 2019. In 2021 Char Dham Yatra, Covid-19 makes an impact too.
---
---
---
---
Here we will provide latest Char Dham Yatra Updates & Advisory which will surely help you to plan your Chardham Yatra. Get latest Char Dham Yatra Guidelines, CharDham Yatra SOPs and every details to visit Chardham Yatra.
21 April 2023 :
Now there is no upper limit for number of pilgrims to take Chardham darshans.
Chardham Yatra Registration
is mandatory for pilgrims visiting Chardham Temples.
Latest Advisory for Char Dham Yatra 2023
Covid rules will have to be followed during the Char Dham Yatra which includes wearing masks, sanitisers, tests on Covid symptoms.
Do this preparation before the Char Dham Yatra
Plan your trip for at least seven days.
Give yourself time to acclimatize to the environment.
Practice breathing exercises for 5-10 minutes daily
Walk for 20-30 minutes daily
If the traveler is 55 years of age or has a history of heart disease, asthma, high blood pressure, or diabetes, get a health check-up done to ensure fitness for travel.
Keep these things with you
Warm clothing such as woolen sweaters, thermals, mufflers, jackets, gloves, socks.
Rain protection equipment – ​​raincoat, umbrella.
Health Checkup Equipment- Pulse Oximeter, Thermometer.
For pilgrims with heart disease, hypertension, asthma, diabetes
All necessary medicines, test equipment and contact of your home doctor
Check weather reports before traveling and if your doctor advises against traveling, please do not travel.
Keep these things in mind while traveling
Healthy Vigilant Successful Travel : For your convenience refer to the communication placed by the Health Department along the travel route and follow all the guidelines carefully.
Refer Map : Medical Relief Center, Primary Health Center, Community Health Center, District Hospital
Look for clear name boards on buildings to identify the Uttarakhand medical unit.
If you or any of your family members have chest pain, shortness of breath (difficulty talking), persistent cough, dizziness/disorientation (difficulty walking), vomiting, icy/cold skin, weakness on one side of the body/ If you feel any of the symptoms like numbness, please reach the nearest medical unit immediately.
These pilgrims should take special care
Travelers over the age of 55, pregnant women, travelers with a history of heart disease, high blood pressure, asthma, and diabetes who are obese (> 30 BMI)
In case of any health related emergency please contact us on helpline number 104.
Do not consume alcohol, caffeinated drinks, sleeping pills and strong/powerful pain relievers during travel, also avoid smoking.
Drink at least two liters of fluid during the journey and eat a nutritious diet.
---
---
Published Date: April 21, 2023
---