Char Dham Weather Guide
"Char Dham Yatra" the spiritual journey takes one to the peaceful and enchanting Dhams hidden in the Garhwal Himalayas. Char Dham (the four abodes) is a set of four prominent holy destinations- Kedarnath, Badrinath, Yamunotri and Gangotri. All these sites are situated in the state of Uttarakhand. On the pious Yatra devotees gets to explore the highly rich culture and the divine nature attached to the roots of these four Dhams.
Why Char Dham Weather Update Is Important?
The uphill route to Char Dhams is difficult but an enchanting one. Devotees have to pass through the rugged mountain roads, rocky terrains and walk in high altitudes. Usually the roads are in good situation but get affected by fluctuating climate change. Being the shrines located at high altitude; make them prone to extreme weather conditions like heavy snowfall, rains, landslides and cloudburst. So, during this time the roads become vulnerable for travelling. The temperature also shows drastic change so one must stay updated about the Char Dham weather on a regular basis.
Note– Due to high altitude location, the four Dhams get covered with thick layers of snow in winter season. The temples get closed during this time of the year. The deities are transferred to nearby villages where prayers continue. You can check here for Chardham Opening & Closing Dates and plan your Chardham Yatra.
Char Dham Weather Guide 2024
The below information will help you understand the weather conditions of Four Dhams individually.

Best Time To Visit Char Dham As Per Weather
Before planning a trip to Char Dham, one needs to be aware of the Best time to visit the Chardham. It will make the trip hassle-free and safe.
Best time to visit Kedarnath

The best time to visit Kedarnath temple is May, June, September and October. During these months the weather remains moderate and pleasant. Due to cold winters and heavy snowfall the temple remains closed for six months.

Best time to visit Badrinath

The best time to visit Badrinath is during summers from May to June and then in September and October. Monsoon season should be avoided to pay visit to the holy temple.

Best time to visit Yamunotri

The ideal time to visit the religious shrine in Yamunotri is from April to June and September to November. The temple is open from last week of April to second week of November.

Best time to visit Gangotri

April to June and September to November is the best time to travel the holy city of Gangotri. Gangotri temple is open from last week of April to second week of November.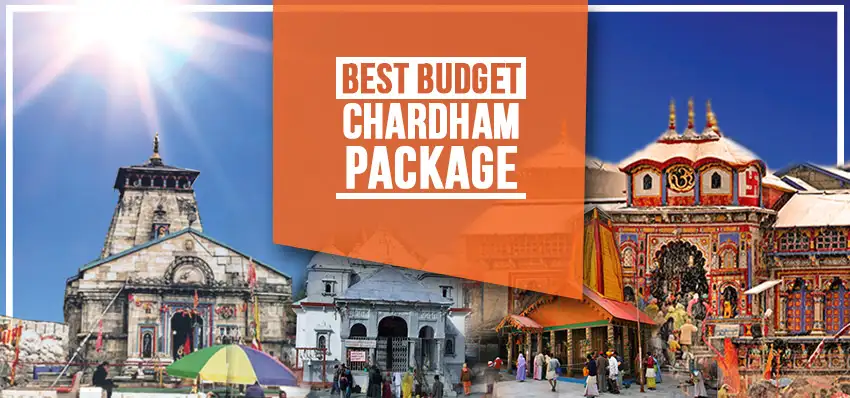 Monthwise Chardham Weather Details
The heavy snowfall witnessed by the temples during the winter season makes them inaccessible. During rainy season heavy downpours and landslides are quite common. The roads get damaged making it a difficult trek for the devotees. Hence, a detailed understanding on the Chardham climate is a must.
The below given table will give you insight into month wise climate of Char Dham for the year 2019.
Char Dham Weather Report (Monthwise)
April
Max Temperature: 25°C, Min Temperature: 5°C. The pleasant moderate cool climate makes it a good time for devotees to pay darshan.
May
Max Temperature: 32°C, Min Temperature: 12°C. Best time for pilgrim and outdoor activities.
June
Max Temperature: 35°C, Min Temperature: 15°C. Good time for adventure and outdoor activities.
July
Max Temperature: 27°C, Min Temperature: 10°C. Warmest month but light refreshing showers take place.
August
Max Temperature: 18°C, Min Temperature: 10°C. Good time to explore natural attractions but occasional rainfall may cause landslides.
September
Max Temperature: 15°C, Min Temperature: 8°C. Climate is moderately cold with post- monsoon rains.
October
Max Temperature: 12°C, Min Temperature: 5°C. Weather gets cold. Char Dham temple closes from this month.
November, December, January, February, March
Inhospitable climate and the roads are covered with snow. Temperature often falls to sub zero.
Listed below are some of the travel tips which one should keep in mind before travelling to Char Dham
The heights and bend of the roads on the trail to four dhams can make anyone sick. So, carry a first aid box and some medicines which you could need anytime.
The journey to Char Dham is a long one. Don't forget to carry some dry and packaged food to keep you energized and healthy.
It is advisable to carry some Indian currency along with your card.
To avoid dehydration drink lots of water. It is advisable to drink packaged mineral water or warm water.
The weather during summer may get warm but the nights get cold. Do carry light woolen clothes with you.