Do Dham Badrinath Kedarnath Helicopter Tour Package ex Dehradun
---
Validity
---
Limited Period Offer
---
---
---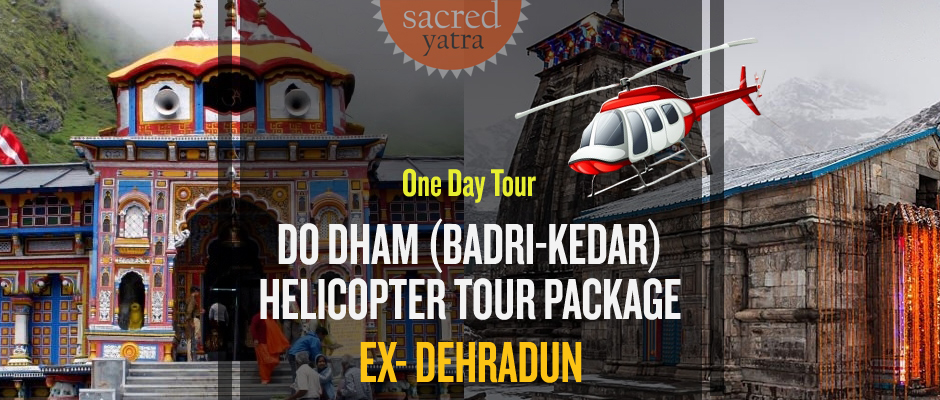 ---
Badrinath-Kedarnath are the most revered shrines located at high hills of Uttarakhand and visited by lakhs of devotees every year. This Do Dham Badri-Kedar Charter Helicopter package will make darshan Badrinath ji & Kedarnath ji in a day tour. The package starts from Dehradun and take guests to Badri-Kedar darshan. The Do Dham tour helicopter package includes VIP Darshan of Kedarnath & Badrinath temples with Lunch at Sarovar Portico, Badrinath.
Kedarnath Badrinath Helicopter Tour Package ex Dehradun Itinerary
Kedarnath Badrinath Do Dham tour by charter helicopter flight from Dehradun is best available package for family or friends tour to Do Dham (max 4). A charter heli flight can take max 4 persons at a time to Kedarnath.
11:45: 12:30 pm: Sahastradhara to Kedarnath by Helicopter
12:30: 14:30 pm: Kedarnath ji Darshan
14:30: 15:00 pm: Sersi to Badrinath
15:00: 15:30 pm: Lunch at Sarovar Portico, Badrinath
15:30: 16:45 pm: Badrinath Ji Darshan
16:45: 17:45 pm: Badrinath to Sahastradhara by Helicopter
Guidelines For Passengers
There is very limited space for luggage in the helicopter. Only 5 kg luggage per passenger will be permitted. Passengers bringing excess baggage would not be allowed to take the same in the chopper.
Passengers should carry only handbags as suitcases cannot be kept in the helicopter.
Badrinath temple are located at high altitude areas. Passengers are advice to carry regular medical kit.
At these locations, it becomes cold throughout, so passengers must carry woolen clothes with them.
Cancellation Policy
If passengers wish to cancel their booking then they will have to pay following cancellation charges
Upto 7 days before Journey — 20% of amount
Upto 48 hours before Journey — 50% of amount
Less than 48 hours before Journey — 75% of amount
Less than 24 hours before Journey — No Refund
---