Kalpeshwar
---
---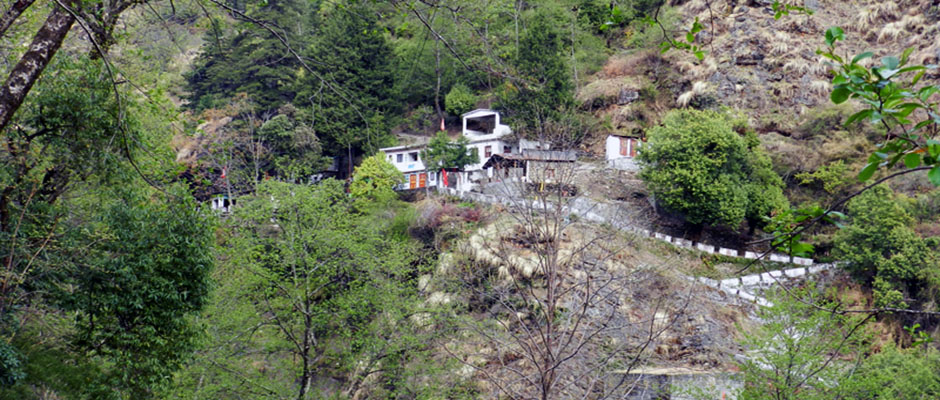 Kalpeshwar Temple
Kalpeshwar temple is located at an height of 2200 mts, dedicated to Lord Shiva in the picturesque Urgam valley in the Garhwal region of Uttarakhand state in India. It is a part of the famous Panch Kedars.
At this small stone temple, approached through a cave passage, the matted tress (jata) of Lord Shiva is worshipped. Hence, Lord Shiva is also called as Jatadhar or Jateshwar. It is approachable only by 12 km trekking from the nearest road head of Helong on the Rishikesh-Badrinath road.
---
---
---
---
Kalpeshwar History and Legend
Kalpeshwar temple legend linked to the Pandavas, heroes of epic Mahabharata eminence is the fifth temple of the Panch Kedars (five temples) of Shiva's five anatomical divine forms; the other four temples in the order of their worship are Kedarnath, Rudranath, Tungnath and Madhyamaheshwar temples.
The epic legend narrated on the creation of the Panch Kedar temples is that Pandavas of Mahabharata epic history, while chasing Lord Shiva to seek his pardon for the fratricidal sins committed by them during the Kurukshetra war, realized that Shiva, in order to distance himself from the Pandavas, took the incognito form of a bull. But when this form of Shiva was discerned by Bhima, the second of the Pandava brothers, tried to hold on to the bull's tail and hind legs. But the bull vanished underground at Guptakashi. Subsequently it reappeared in five different forms: His hump appeared at Kedarnath, his bahu (arm) was spotted at Tungnath, his head surfaced at Rudranath, the stomach and navel were traced at Madhyamaheswar and his jata (tress) was divined at Kalpeshwar.
Another legend states that this place was much preferred by sages of folklore for meditation. Particular mention is made of sage Arghya who through his austere penance created Urvashi, the famous apsara (nymph) at this place. Durvasa, an ancient sage, son of Atri and Anasuya, considered an incarnation of Shiva, known for his short temper did penance and meditated under the Kalpavriksha, the wish fulfilling divine tree in the precincts of the temple.
Pooja in Kalpeshwar Temple
The temple priests at this temple also are the Dasnamis and Gossains, desciples of Adi Shankara, hail from South India. The Namboodiri brahmin sect who worship at Badrinath and Kedarnath from Kerala, the Jangamas are lingayats from Mysore and the Dasnami Gossains belong to Adi Shankara's group.
Kalpeshwar Opening and Closing Timings
Kalpeshwar is the only Panch Kedar temple accessible and open throughout the year. All other Kedar are closed during winters.
Kalpeshwar as Trekking Destination
This temple is located in Urgam valley. This shrine is a delight for the tourists with striking views of valley with terraced fields and lush green forests. The temple is reached after a trek of 12 km from Helang which is the motor head on Rishikesh – Badarinath route. Trekking in this rocky terrain is a favorite where the trekkers are provided with the some of the hardest trekking routes.
Best Time to Visit Kalpeshwar
Best Months: May, June, September, October
Kalpeshwar in Summers (April to August): are very pleasant with moderate climate, with average around 15°C. Summers is ideal for all sight seeing, temple visit and also for visiting nearby attractions.
Kalpeshwar in Monsoons (September to November): are accompanied with scanty rains. This period is good for sight seeing as the hilly panoramic views are very attractive in rains.
Kalpeshwar in Winters (December to March): are chilly days with average minimum touching near 4°C. Minimum can touch sub zero levels.
How To Reach Kalpeshwar
By Road: Kalpeshwar can be reashed up to Helang, 243 kms. on the Rishikesh – Badrinath road by bus and taxis. From Helang, the 12 kms. trek is off the main road.
Boodha Kedar temple surrounded by potato fields is seen on the trek route. Also seen is the Dhyan Badri temple at Urgam Village, one of the Sapt Badri (seven Badri) temples.
By Air: Nearest airport is Jolly Grant, Dehradun 272 kms
By Rail: The nearest railhead, Rishikesh is 255 kms
Image Gallery of Kalpeshwar
---
---