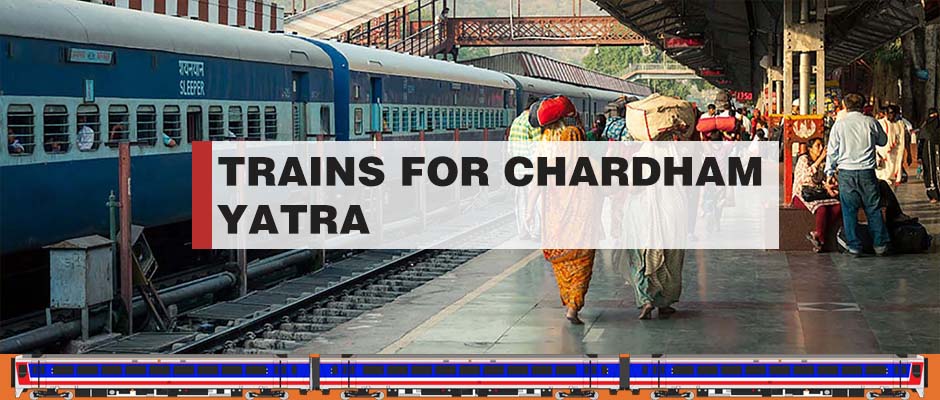 Trains to Rishikesh for Char Dham Yatra
Trains to Chardham from Rishikesh Railway Station
Uttarakhand is known as the 'Land of Gods'. In this spiritual land is perched the four soulful religious site known as Char Dham or Chota Char Dham. Chardham in Uttarakhand are the most revered pilgrimage sites in India. The four Dhams in Uttarakhand is Kedarnath, Badrinath, Yamunotri and Gangotri.
It is the pure faith for God that make devotee's travel from far off places to four dhams. During the Chardham Yatra pilgrims experiences the most surreal journey. They get to savor the serenity and peace that Char Dham offers.
Trains to Rishikesh for Chardham Yatra
Situated on the foothills of splendid Himalayas in Northern India, Rishikesh is one of the religious centre plus fun loving destination of India. It is the popularity of Rishikesh that make pilgrim travel Chardham from Rishikesh. Many Chardham itineraries include Rishikesh. It houses many tourist spots and temples which are worth exploring. Pilgrims while visiting Chardham also get to explore many popular attractions in Rishikesh.
Many Indians prefer travelling by trains. It is very cost-effective and efficient way to travel. There are no direct trains to four dhams. Rishikesh Railway Station is the nearest railhead to Chardham. Yatris can travel to Rishikesh by train for Chardham tour.
Train Schedule to Rishikesh for Chardham
Trains from Delhi to Rishikesh
Trains from Delhi to Rishikesh for Chota Chardham Yatra
Hindus wish to undertake Chardham Yatra once in a lifetime. A large group of pilgrims travel to Chardham from Delhi. What can be better to travel Chardham from Rishikesh. Rishikesh is located at a distance of around 225 km from Delhi. Delhi has one of the busiest railway networks. DLI RKSH PASS is the fastest train to Rishikesh from Delhi that runs from Old Delhi Junction station.
| Train Number | Train Name | Source Station | Schedule | Arrival at Rishikesh | Running Days | Classes |
| --- | --- | --- | --- | --- | --- | --- |
| 54471 | Delhi – Rishikesh Passenger | Old Delhi Junction | 17:35 | 02:30 | Daily | UR |
Trains from Katra to Rishikesh
From Vaishno Devi (Katra) to Rishikesh by train for Chardham pilgrimage
Vaishno Devi Yatra is one of the hardest pilgrimage is India. Many pilgrims take the long spiritual journey of Vaishno Devi with Chardham. It is the religious love for God that makes them travel to two of the prime pilgrimages of India. Being a famous spiritual site, Shri Vaishno Devi Katra railway station is well connected to major cities of India. For the Chardham yatra from Vaishno Devi you can take a train to Rishikesh first and then travel to the four dhams in Uttarakhand.
| Train Number | Train Name | Source Station | Schedule | Arrival at Rishikesh | Running Days | Classes |
| --- | --- | --- | --- | --- | --- | --- |
| 14610 | Hemkunt Exp | Katra | 16:20 | 06:50 | Daily | Gen, Sleeper, 2A, 3A |
Trains from Rajasthan to Rishikesh
Trains to Rishikesh from Rajasthan for Chardham Yatra
Barmer
Located on western part of Rajasthan, Barmer is the fifth largest district in India. To reach Rishikesh for Chardham Yatra from Barmer you can board BMR RKSH Link. This train runs on regular basis. Barmer to Rishikesh distance is 1019 km.
| Train Number | Train Name | Source Station | Schedule | Arrival at Rishikesh | Running Days | Classes |
| --- | --- | --- | --- | --- | --- | --- |
| 24888 | Barmer – Rishikesh Link Express | Barmer | 06:45 | 09:20 | Daily | Gen, 2S, Sleeper, 3A |
Bandikui
Bandikui is the railway city in Rajasthan. Bandikui Junction is well linked to major destinations of India. Daily trains ply to Rishikesh from the station.
| Train Number | Train Name | Source Station | Schedule | Arrival at Rishikesh | Running Days | Classes |
| --- | --- | --- | --- | --- | --- | --- |
| 54463 | Bandikui – Rishikesh Passenger (UnReserved) | Bandikui Jn | 14:50 | 13:20 | Daily | Gen |
Places to See in Rishikesh
Popular for yoga, adventure activities & temples, Rishikesh is a pristine destination that grip tourist in its charm. One can enjoy trekking, rafting, rock climbing in Rishikesh and explore various tourist spots in Rishikesh. Rishikesh is a perfect getaway expedition where travelers can spend their time in leisure.
Let us look at some sightseeing attractions in Rishikesh
Laxman Jhula and Ram Jhula – A well known tourist place in Rishikesh is Laxman Jhulla and Ram Jhula. These are the 450 ft long iron suspension bridge over the holy river Ganga. A delightful sight of River Ganga and Rishikesh city is visible from the jhulas. There are also many temples located in the proximity which one can visit are Ram temple, Laxman temple, Trayambakeshwar temple.
Beatles Ashram – Located on the eastern banks of sacred river Ganga is Beatles Ashram also called as Chaurasi Kutia. The ashram gained popularity when the famous English rock band 'The Beatles' studied meditation here. People find calmness and peace in the serene surroundings of the ashram. The ashram formally belonged to late Guru Maharishi Mahesh Yogi. Now it is under the control of Rajaji Tiger Reserve Uttarakahand's Forest Department.
Neelkanth Mahadev Temple – Located at a splendid height of 1330 m, Neelkanth Mahadev temple is located in serene Pauri Garhwal district of Uttarakhand. The temple is one of the renowned pilgrimage sites in India devoted to Lord Shiva. In the holy shrine Neelkanth Mahadev is enshrined in form of Shivalinga. A natural spring is also present in the temple complex where devotees take holy dip. Neelkanth Mahadev mandir is located 32 km from Rishikesh.
Triveni Ghat – Triveni Ghat is the most pristine ghat in Rishikesh located at the banks of holy river Ganag. The ghat remains crowed as devotees in large number visit the ghat to take rituals bath in the auspicious water of River Ganga. It is believed that it washes away the sins of one's life. In the evening the pleasant Ganga Arti takes place at the Triveni Ghat in Rishikesh. Gita Mandir and Lakshminarayan temple are some famous shrines located on the Triveni Ghat.
Rishikund – Situated near Raghunath temple in Rishikesh is Rishikund. Rishikund is said to be built by saint Kubz. The main attraction of this kund is the captivating reflection of the Raghunath temple that falls on the water of the kund. As per Hindu Mythology, Lord Ram is believed to have taken bath in this kund when he was exiled. The pond is filled by the holy waters of river Yamuna.
Ganga Aarti – Ganga aarti is a religious prayer ceremony in which river Ganga is worshipped. Ganga aarti in Rishikesh is performed at various ghats. The aarti at Parmarth Niketan and Triveni Ghat are very popular. Ganga aarti takes place in the evening in which people float diyas in the Ganga and hymns are recited by the priests. The aarti takes palce everyday in at 6:00 PM to 7:00 PM.
Rishikesh Railway Station
Rishikesh Railway Station also known as Rishikesh Junction is a small station that lie on Northern railway network zone of Indian Railways. It works under Moradabad division. The railway station has 2 platforms which operate 2 trains on daily basis.
Though many trains does not operate from the railway station, but Rishikesh being one of the nearest station to Chardham makes it an important railhead. Travelling to Chardham from the Rishikesh railway station is easy as many taxis and cabs are accessible from outside the railway station.
How to Reach Chardham from Rishikesh Railway Station
Rishikesh railway station has a prime location and nearest bus stand is situated just a few km away. Buses are available for Chardham from the bus stand. For a comfortable journey to Chardham, you can contact Chardham travel agents in Rishikesh. These agents offer wide range of travel services and many car rental services.
Kedarnath from Rishikesh – Kedarnath is well connected via road to Rishikesh. Kedarnath Dham is at a distance of 223 km from Rishikesh. Kedarnath is accessible after 18 km trek. Gauri Kund is the base camp for Kedarnath temple trek.
From the Rishikesh junction you will have to move to the nearby bus stand to fetch a bus to Kedarnath. State transport bus run to Kedarnath from Rishikesh. To reach Kedarnath in less time you can book a taxi or jeep from outside the railway station.
Badrinath from Rishikesh – Rishikesh to Badrinath distance is 301 km. You can board a bus to Badrinath from Rishikesh bus stand. During the peak season buses are crowded or overbooked. For the easy journey to Badrinath Dham you can hire a taxi or travel by shared jeeps. Many taxis agents for Chardham are available from outside the Rishikesh railway station.
Gangotri from Rishikesh – Gangotri is easily reachable by road from Rishikesh. To reach Gangotri from Rishikesh railway station you can get a bus from nearby bus stand in Rishikesh. You can also opt to travel by taxis/ jeep to reach Gangotri. The total distance between Gangotri Dham and Rishikesh is 249km.
Yamunotri from Rishikesh – Yamunotri is situated 13 km from Hanumanchatti. From Jankichatti there is a 6 km trek trail to reach Yamunotri temple. Yamunotri is linked to Rishikesh by bus services of Samyukt Rotation Yatayat Vyavstha Samiti. Taxis to Yamunotri from Rishikesh railway station are available easily.
Some Important FAQs of Char Dham Pilgrimage
Are Trains Available for Chardham Yatra?
Trains are available for Chardham Yatra only till Rishikesh, Haridwar & Dehradun. These are well connected by rail network with other major cities.
How to Reach Rishikesh by Train for Chardham Yatra?
Rishikesh is a major holy city connected with rail line and nearest railway station for Chardham Yatra. Direct trains from Delhi, Rajasthan etc are available to Rishikesh for Chardham Yatra.
Are Chardham Yatra Trains Service Available?
No, but Chardham Railway Service will start soon from 2025 as Chardham Rail Project is going on.
What are the Last Railway Stations to Start Chardham Yatra?
Rishikesh Railway Station, Haridwar Railway Station & Dehradun Railway Station are some stations to start Chardham Yatra.
Can We Start Chardham Yatra Tour from Rishikesh?
Yes, one can start Chardham Yatra from Rishikesh.
How to Start Char Dham Yatra from Rishikesh?
Rishikesh is a major city to start Chardham Yatra to Badrinath, Kedarnath, Yamunotri & Gangotri. Pilgrims can hire or take taxi/ bus to Chardham Yatra from Rishikesh easily.