GMVN Yatri Niwas Badrinath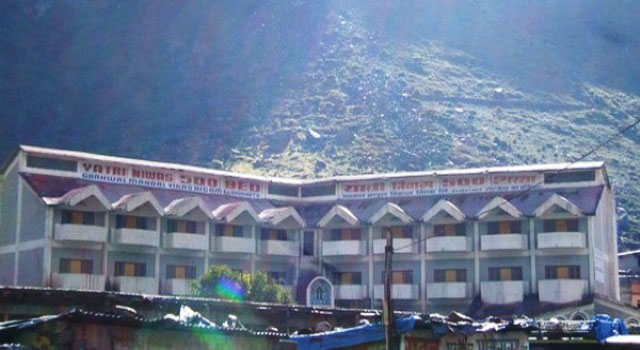 GMVN Yatri Niwas Badrinath
GMVN Yatri Niwas Badrinath
---
Lowest Rate
---
Rs 100 Onwards
---
GMVN Yatri Niwas (Badrinath)
GMVN Yatri Niwas Badrinath is a budget government accommodation located at the picturesque holy town of Badrinath in Uttarakhand. The hotel offers only basic facilities such as a comfortable accommodation in dormitories, bathroom with hot/cold water supply, pure vegetarian food in restaurant and parking facility. The magnificent natural landscapes of Himalayas surrounds the hotel which provide a refreshing and pure atmosphere in and around the place. The budget accommodation is a preferred choice for budget travelers and pilgrim tourists called 'yatris' usually, hence the name Yatri Niwas.
Rooms and Accommodation in GMVN Badrinath Yatri Niwas
GMVN Badrinath Yatri Niwas offers a comfortable accommodation mainly with its dormitories comprising a total of 500 beds. Guests are provided with comfortable beds, bathroom with hot and cold water supply and breathtaking views of the mountains from the room. Dormitory rooms are clean, well-furnished and appointed with the limited basic facilities to provide a comfortable stay.
Room Types
Facilities and Activities in GMVN Yatri Niwas Badrinath
Room Amenities: Comfortable Beds, Room Cleansing Service, Bathroom with Hot and Cold Water Supply.
Facilities: Doctor on Call, Luggage storage, Safe deposit box, Front desk, Parking Facility.
Recreational Facilities and Activities: Sightseeing, Mountaineering, Camping, Trekking arrangements nearby.
Dining in GMVN Badrinath Yatri Niwas: The hotel has a restaurant which serves number of pure vegetarian Indian dishes.
GMVN Yatri Niwas Badrinath Tariff
GMVN Badrinath Yatri Niwas Dormitory room tariff starts from Rs. 100/- per bed per day.
Location of GMVN Yatri Niwas Badrinath
GMVN Badrinath Yatri Niwas is located at Badrinath in Chamoli district of Uttarakhand. Nearest airport from Badrinath is Jolly Grant Airport in Dehradun, which is about 317 km away and Rishikesh Railway Station is the nearest major railhead which is about 294 km away from Badrinath town.
Nearby tourist locations to visit from GMVN Yatri Niwas, Badrinath: Badrinath Temple, Tapt Kund, Narad Kund, Panch Dharas, Brahma Kapal, Charanpaduka, Bhim Pul, Vyas Gufa, Vasundhara Fall.
GMVN Yatri Niwas Badrinath Address for Online Booking and Reservations
GMVN Yatri Niwas – Badrinath
Badrinath, Chamoli District,
Uttarakhand – 246422, India
---
---