Badrinath locals rejoices on approval for treatment of Badrinath Highway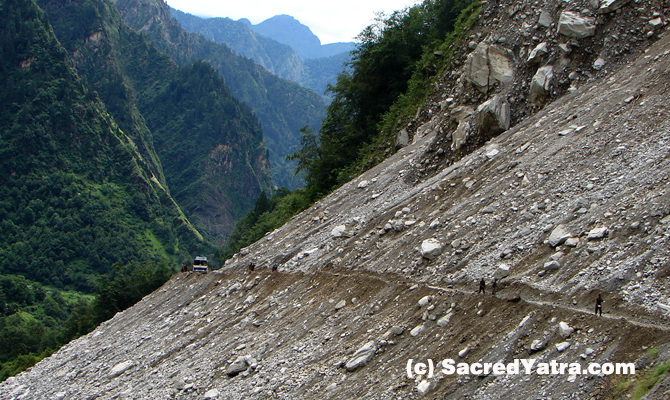 Damaged Roads on Badrinath Highway
Road conditions on Badrinath Highway
After a long Hunger Strike by local people of Laambagarh, Uttarakhand Government has approved the amount of 16 crores for renovation of Badrinath Highway, Laambagarh – Benakuli Road. The Hunger Strike was broken and natives were happy with the news. People celebrated this news on Tuesday by rejoicing procession.
This Road was in bad condition after Disaster of 17 June 2013. Due to which the locals of the nearby village was facing Transport problem. The road was under such condition that people were feared to even walk in Laambagarh-Benakuli road.
Earlier the Construction work was agreed by Border Road Organization (BRO) but due to insufficient balance they didn't turned up. So now with approval of 16 crore rupees by Uttarakhand Government to PWD, agrees to reconstruct Badrinath Highway (Laambagarh-Benakuli) till April 2015.
After getting approval, procession group celebrated their procession on Tuesday from Saket tiraha, Bus Stand to Bamani Gao and then to Badrinath Temple.
---
---
Published Date: October 10, 2014
Last Updated On: October 28, 2014
---