CM Harish Rawat visit Kedarnath on New Year, announces Kedar Mahotsav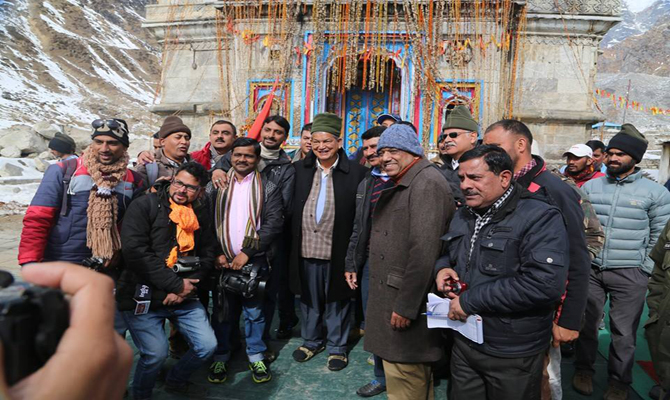 CM Rawat in Kedarnath on New Years Day
Pic Src : Facebook/ Pride of Uttarakhand
For the first time all devotees can be able to visit Kedar Temple in winter session too. CM Harish Rawat visited Kedar temple on the start of New Year, after examining construction work of Kedar Temple, he decide to start the helicopter service for the devotees so that the can easily obeisence the Kedar Temple. He also said that responsibility of Kedar Mahotsav is handed over to Nehru Mountaineering Institute, this mahotsav will held on Feb 2016.
A Ropeway will be made from Linchauli to Kedar Nath
Central Government has passed order to construct a ropeway from Linchauli to Kedarnath. This ropeway will be similar to the ropeway of USA. At Rampur around 200 Cottages are about on its completion and at Linchauli 100 cottages will also construct this year. CM also encouraged all workers and gave them warm clothes and also appreciated their work.
Kedar Mahotsav will take place when there will be Heavy Snowfall in the Region
Mahotsav will be held on the time period of heavy snowfall. May be it will take some time but once snowfall will occur Kedar Mahotsav will be celebrated. CM said that all priest will get compensation money of rupees 1 Lac and all worker will get Rs 10,000 after the completion of construction work.
News Src : Amar Ujala, Dehradun
---
---
Published Date: January 2, 2016
Last Updated On: January 2, 2016
---