Kedarnath Yatra trek route to start from Gaurikund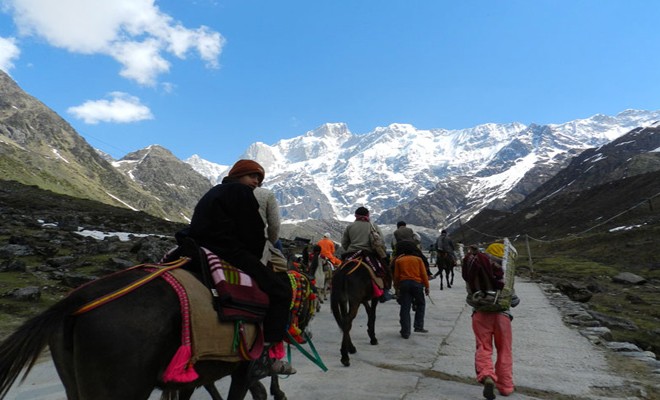 Kedarnath Yatra trek route to start from Gaurikund
On account of starting paidal yatra from Gaurikund to Kedarnath the administration has started the preparation work feverishly. Kedarnath Yatra is all set to start from 24 April and in the meantime the devastated Sonprayag-Gaurikund route is to be repaired while Gaurikund-Kedarnath pedestrian way is also in the process.
In 2013 deluge a large part of the route was badly damaged. Six kilometres motorway stretch from Sonprayag to Gaurikund was also devastated. As a result the paidal yatra in 2014 was extended by 5 kms. Before deluge travellers from Gaurikund to Kedarnath used to go on foot covering a distance of 14 kms. Again this route is being repaired. Currently this route is open for small vehicles going Gaurikund, but the temporary route gets regularly damaged by the heavy rainfall time-to-time.
The BRO currently has a temporary bridge, which is the movement of vehicles. Kedarnath Development Authority, Department of Public Works under the direction of the pedestrian Gurikund-Kedarnath is also formed on the old alignment. Dr DM Rudraprayag. Raghav said Gurikund anchor repair work on the motorway running perfectly. Even the motorway journey away from becoming Kedarnath will certainly be less. On the other hand Gurikund trade association, said the former president Mahesh Bgvadhi marks Gurikund Kedarnath has been traveling. Gurikund Kedarnath by the involvement of the motorway will be convenient for the people greatly.
News Src : Jagran, Rudraprayag
img src : eUttaranchal
---
---
Published Date: April 5, 2015
Last Updated On: April 6, 2015
---