Over 10k pilgrims rescued by land & air rescue operation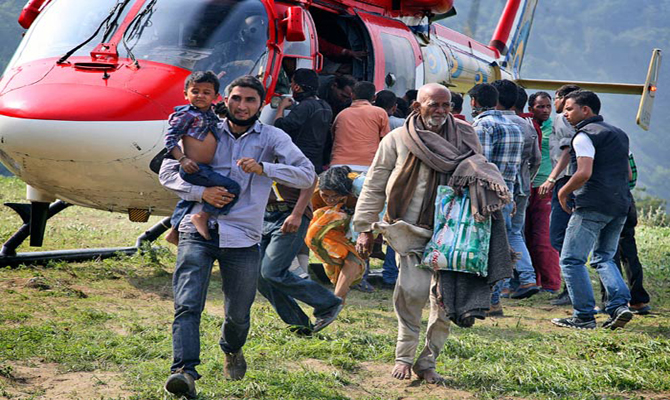 Over 10k pilgrims rescued by land & air rescue operation
Hundreds of pilgrims which are stranded in Kedarnath and Hemkund Sahib due to adverse weather conditions recued by air and land operation Helicopters are active in evacuating the travellers.
As the rains receded admninistration started moving stuck pilgrims from different places of the rain affected valley. First day nearly five and a half thousand pilgrims were safely moved out of the place. 14 choppers have been deployed to ferry stuck pilgrims. According to the administration all the stranded pilgrims have been rescued from Hemkund Sahib, Hanuman Chatti, Gangotri, and Kedarnath. Besides this, approximately eight thousand people are still stuck in major stations Ghangaria, Govindghat and Badrinath. The rescue operation continues since Saturday.
On the other side, downpour continued in areas of Kumaun region. Landslides trigerred by the rains has blocked many connecting routes. Kailash Mansarovar yatra route is also out-of-bounds due to which pilgrims have been stopped from moving further at fourth stage Dharchula.
On Friday morning the helicopter took off at six in the morning for Kedarnath and safely landed almost 180 pilgrims till afternoon. 560 stranded travellers in on the pedestrian route of yatra were saved by SDRF and taken to Guptakashi.
The weather may have eased down but the landlides still continue. The rubble cam down three kilometres from Sonprayag to Gaurikund on national highway. Like this several other regions are facing road blockage due to landslides caused by rain.
News Source : Dainik Jagran, Dehradun
img src : NDTV
---
---
Published Date: June 27, 2015
Last Updated On: June 27, 2015
---