40 thousand pilgrims visit Kedarnath Dham
---
---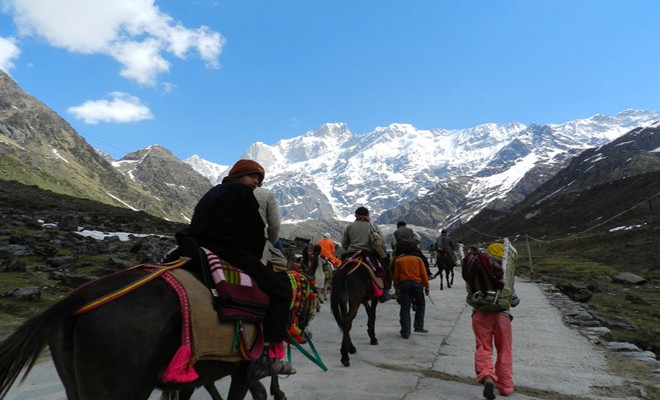 Kedarnath Yatra trek route to start from Gaurikund
---
---
A month is about to complete since the portals of Kedar Dham opened. And so far an estimate of about 40,774 passengers have visited the shrine for darshan. The number is much higher than the last year tourists inflow.
The yatra was disrupted after the state bore wrath of nature by flash floods and landslides in 2013 claiming thousands of life and leaving many homeless. The disaster affected the yatra heavily bringing a steep decline in tourism sector of the state. A mediocre number of only 40 thousand pilgrims made it to the yatra last year.
2364 devotees reached the holy shrine to seek blessings of Kedar baba. The number included seven foreigners, 1201 men, 1025 women and 131 kids from all over the country.
1639 passengers left for religious trip
On Wednesday, 1639 pilrims left for famous religious char dham yatra by the buses of private transport companies. The Administrative Officer of Joint Travel Arrangement Committee, Brijbhanu Prakash Giri told 26 buses left on rotation on Wednesday. There were 809 devotees from Madhya Pradesh, Maharashtra, Andhra Pradesh, Gujarat and Uttar Pradesh. Out of these 10 buses left for char dham, 04 for one dham and 12 left for two dhams.
TGMO Secretary Himmat Singh Rawat said 470 passengers left for two and char dham yatra by 15 buses of the company. Manoj Dhyani associated with transport told 60 buses with 360 pilgrims rushed to various Dhams.
Photometric registration reached 1.05 lakh
The number of pilgrims for photometric registration crossed 1.5 lakh in just a month. On Wednesday, 5255 pilgrims got themselves registered in the nine centres set up by the company. Rishikesh centre alone witnessed registration of 3525 pilgrims.
According to Trilok Security Service Company, approximately 10,4779 pilgrims have registered in the second half of April alone. He said 5255 travellers registered themselves on different centres on Wednesday.
News Source : Amar Ujala, Kedarnath
---
---
Published Date: May 21, 2015
---