Ambani's visit Badrinath, Kedarnath
---
---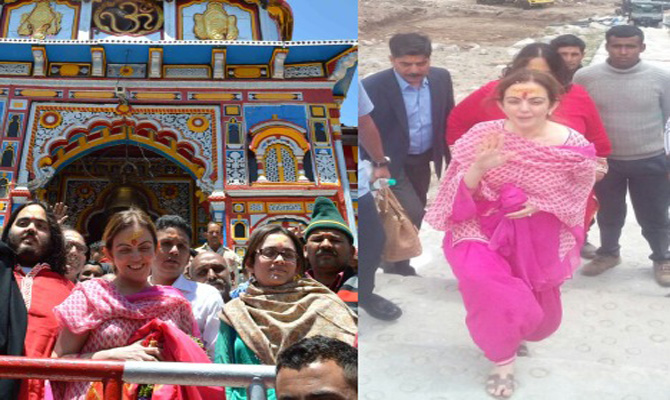 Ambani's visit Badrinath, Kedarnath
---
---
Neeta Ambani, wife of business magnate Mukesh Ambani reached Badrinath Shrine for darshan along with mother Kokila Ben, sister Lata and son Harianant. The family arrived dham by a chopper at around eleven on Friday morning.
Earlier, there were news about Ambani coming to Badrinath on Thursday. The family visited Badrinath dham to pray for the victory of their IPL team in the coming finals. A rounded figure of 1,200 pilgrims were present at Badrinath Dham in the morning on Friday.
During the visit Neeta Ambani promised to deliver five quintals of sandalwood and one quintal saffron in her next year yatra. Currently, the cost of one quintal sandalwood is 12 lakh and one quintal costs around 5 lakh. In addition to it, she also promised to give a bolera to the temple authorities for moving around.
According to statistics, since the opening of Badrinath portals a massive number of 79 thousand pilgrims have visited the dham till Friday. Earlier on Thursday, 3284 pilgrims arrived holy shrine for darshan. Renowned Hindi film actress, Himani Shivpuri also visited Badrinath Dham on Thursday. Himani Shivpuri spent nearly three hours in Badrinath Dham. With the increasing number of pilgrims, people have to stand in the queue till eight in the morning for darshan of Lord Badrinath.
News Source : Amar Ujala, Dehradun
---
---
Published Date: May 22, 2015
---
Add Comments and Suggestions or Ask Questions about "Ambani's visit Badrinath, Kedarnath"
We would be glad if you can comment below and provide your valuable suggestions and feedback on Ambani's visit Badrinath, Kedarnath. If this Ambani's visit Badrinath, Kedarnath page have any wrong information/list or out of context content, then you can report us as well.
If you have any questions, you can also ask as in the following comments section. Our team will try to provide you answers/solutions.