Anushka Virat to endorse the sacred Char Dham Yatra
---
---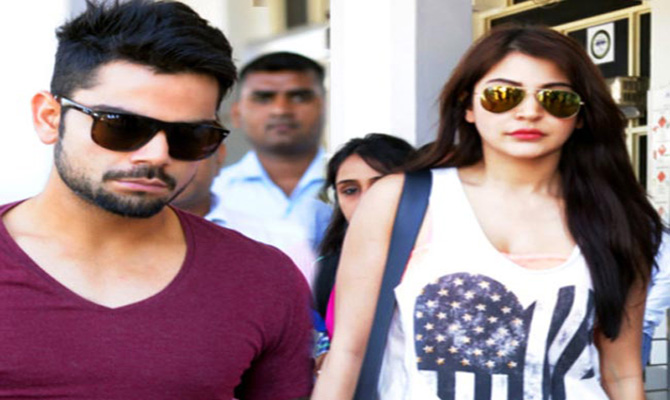 Anushka Virat to endorse the sacred Char Dham Yatra
---
---
Indian cricketer Virat Kohli and bollywood actress Anushka Sharma have accepted the proposal of promoting the worldwide famous Char Dham in the hill state Uttarakhand. After the recent approval of Virat Kohli now the the new is in the air that Anushka Sharma will be joining Virat in the campaign. Uttarakhand government is happy to have them as the face of the state in order to boost religious tourism in the state.
According to sources, Anushka and Virat would be on Uttarakhand Tourism Board posters to promote its flagship Char Dham Yatra, which was hit badly in 2013 flash floods and landslides taking a toll on thousand lives.
Sources say, the couple reached the state capital on Tuesday, apparently to formalise the endorsement deal with the government. They were also expected to meet Chief Minister Harish Rawat later in the day.
Anushka Sharma and Virat Kohli have regularly been in the limelight for their relationship status. After the semi-final Indian defeat to Australlia social media flooded with numerous jokes pointing Anushka. The B-Town actress became the butt of many jokes on Twitter. Now the endorsing of holy state have caught the duo in limelight.
News Src : India Today, New Delhi
img src : IndiaToday
---
---
Published Date: April 7, 2015
---
Add Comments and Suggestions or Ask Questions about "Anushka Virat to endorse the sacred Char Dham Yatra"
We would be glad if you can comment below and provide your valuable suggestions and feedback on Anushka Virat to endorse the sacred Char Dham Yatra. If this Anushka Virat to endorse the sacred Char Dham Yatra page have any wrong information/list or out of context content, then you can report us as well.
If you have any questions, you can also ask as in the following comments section. Our team will try to provide you answers/solutions.