Badrinath, Gangotri routes halted due to rain
---
---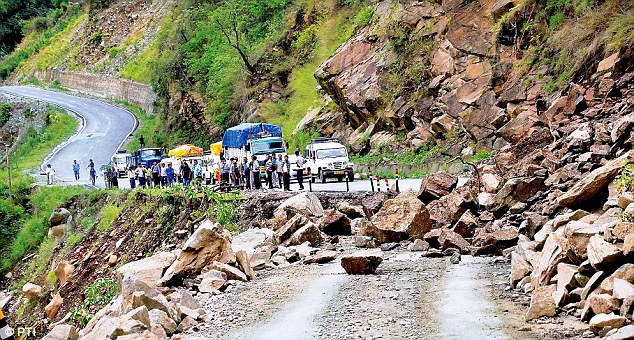 NITI Aayog grant Rs 286 crore to boost Char Dham infrastructure
---
---
Heavy downpour has affected the normal life in Uttarakhand. Many roads, major bridge and many house has been washed away. In Pithoragarh a house washed away and three member of the family got hurt due to downpour. Badrinath and Gangotri routes halted due to debris, but the Kedarnath, Hemkund and Yamunotri trek is still resume. Devotees are going on and continuing through trek. In the morning people of Chamoli have took a deep breath with the first sun ray. Near Nandprayag, the Badrinath route was blocked due to debris.
The Hemkund and Badrinath Yatra is ongoing on the same way. From Govindghat 172 passenger were carried forward to Hemkund from Govindghat and from Joshimath 60 passenger move towards Badrinath. Gaurikund highway is open to Sonprayag. However, in terms of safety of passengers, due to heavy rainfall a wing was suspended for 3 hours near Sonprayag. After the flow back, 144 passengers took off on foot to Kedarnath. Due to landslide the route of Gangotri Highway, Dharasu band, Natala, Ganeshpur, Batuka Sud, Laldang and Malla was inhibit. However, Yamunotri highway is smooth.
News Src : Jagran, Dehradun
---
---
Published Date: July 22, 2015
---
Add Comments and Suggestions or Ask Questions about "Badrinath, Gangotri routes halted due to rain"
We would be glad if you can comment below and provide your valuable suggestions and feedback on Badrinath, Gangotri routes halted due to rain. If this Badrinath, Gangotri routes halted due to rain page have any wrong information/list or out of context content, then you can report us as well.
If you have any questions, you can also ask as in the following comments section. Our team will try to provide you answers/solutions.