Badrinath Highway Closed at Sukki after Heavy Snowfall
---
---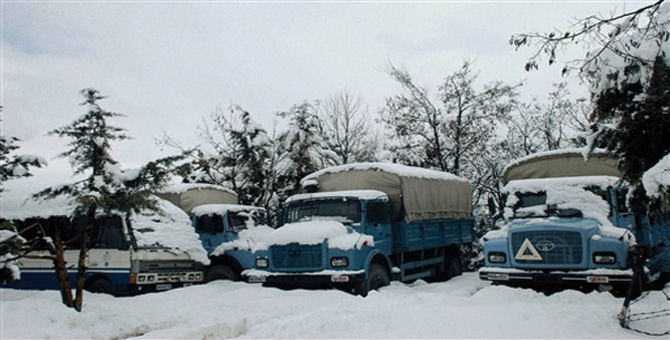 Badrinath Highway closed at Sukki after heavy Snowfall Uttarakhand
---
---
The highway to Badrinath Shrine has been shut at Sukki due to heavy rainfall and inclement weather conditions. The closure of highway has left many vehicles stranded on the road.
The uncertain rains has brought the districts life to a stand still and has paralysed the citys work to a great extent. Gangotri, Harsil, Mukhba and Dharali have recorded 2.50 to 3.00 feet snowfall while Sukki, Jhala and nearby villages received 1.5 feet snowfall.
Along with them Yamunotri, Kharsali and nearby places have received about 3 feet snowfall. Dodital, Nachiketatal and Kedarkantha with Harkidun have also received snowfall. Owing to the heavy snowfall Sukki, Jhaa and nearby villages have still not been recovered from power failure. However, Electricity Department is trying to recover it through the Harsil small scale electricity scheme. But with barely 200 kiloWatt scheme and dipped temperature the endeavours are proving vain.
News Src : Hindustan, Uttarkashi
img src : Jagran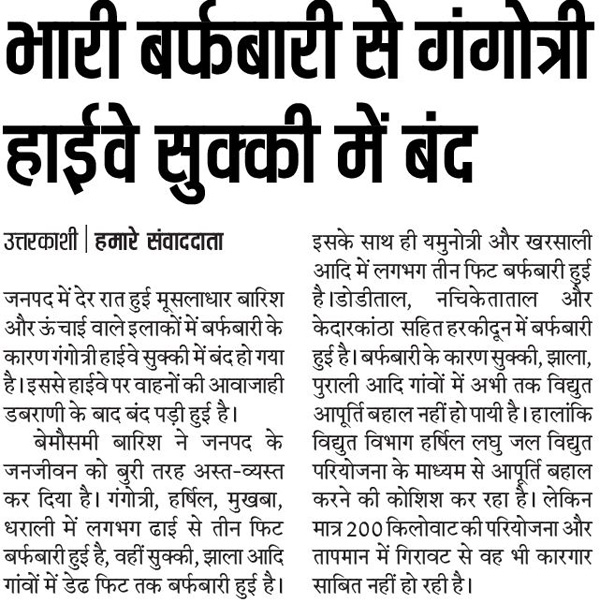 ---
---
Published Date: March 10, 2015
---
Add Comments and Suggestions or Ask Questions about "Badrinath Highway Closed at Sukki after Heavy Snowfall"
We would be glad if you can comment below and provide your valuable suggestions and feedback on Badrinath Highway Closed at Sukki after Heavy Snowfall. If this Badrinath Highway Closed at Sukki after Heavy Snowfall page have any wrong information/list or out of context content, then you can report us as well.
If you have any questions, you can also ask as in the following comments section. Our team will try to provide you answers/solutions.