Badrinath Highway is Expected to Open Till Noon
---
---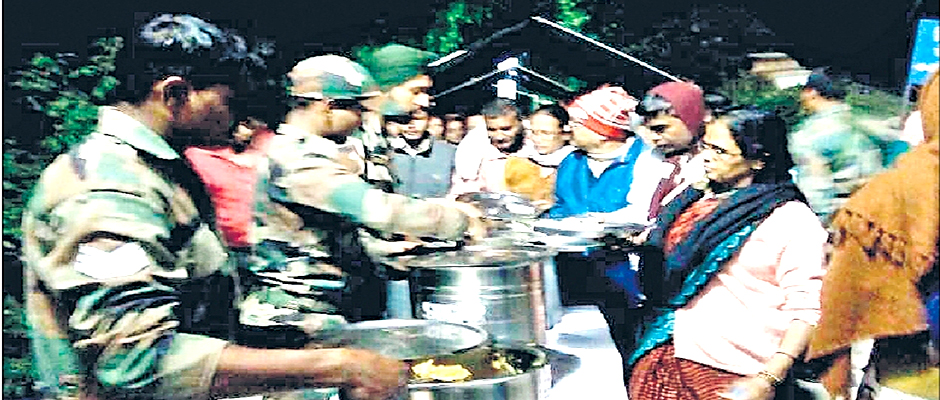 Army Jawans helping pilgrims at Vishnuprayag
After the landslide at Vishnuprayag on Badrinath highway, the administration is providing for accommodation and food to the pilgrims stranded during the yatra. Due to quick action by administration, no pilgrims have been reported injured in the landslide. After half past three on friday, a large part of Hathi Parvat stone hill started to crack down. All vehicles were stopped at 4 pm and a large portion of the hill came down at 5 pm blocking 100 mtrs of highway.
---
---
---
---
At the site of landslide about 1800 pilgrims stranded and about 10,000 pilgrims were reported to be at Badrinath, Govindghat and Joshimath. A team of BRO and ARMY were started clearing the debris and stones from the highway. With the help of Army Jawans and BRO team, administration will open the highway till Saturday noon.
Last night Army comes for help for pilgrims stranded at Joshimath. Proper food and shelter were provided by Army to the pilgrims. More than 1500 pilgrims took shelter at Gurudwara at Govindghat and 500 at Pandukeshwar.
---
---
Published Date: May 20, 2017
---
Add Comments and Suggestions or Ask Questions about "Badrinath Highway is Expected to Open Till Noon"
We would be glad if you can comment below and provide your valuable suggestions and feedback on Badrinath Highway is Expected to Open Till Noon. If this Badrinath Highway is Expected to Open Till Noon page have any wrong information/list or out of context content, then you can report us as well.
If you have any questions, you can also ask as in the following comments section. Our team will try to provide you answers/solutions.