Badrinath Shrine's Closure Process Begins
---
---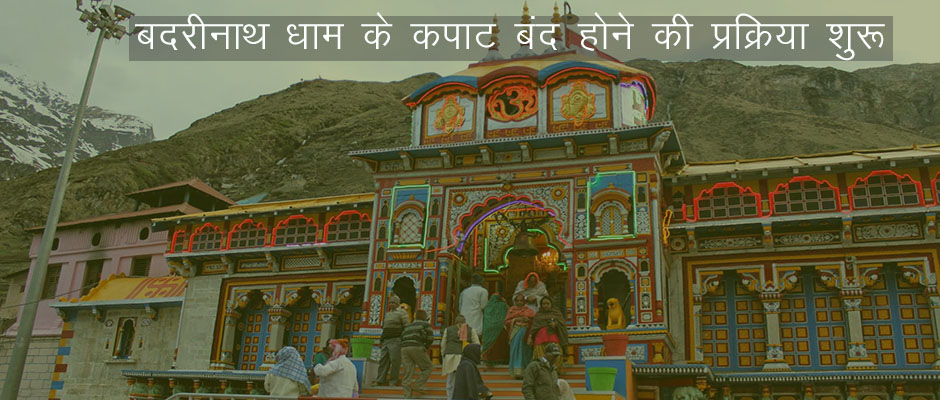 Badrinath Dham closure process begins
One of the four sacred shrines of Hindus, which is considered to be place of salvation, Badrinath Dham will be closed on 19th November. Before the closure of the Badrinath Temple, the sacred rituals of Panch Pooja has been started from yesterday.
---
---
---
---
After the worship of Ganesh temple situated in the Temple premises, the valves of Ganesh temple has been closed yesterday. The panch pooja held before the closure of Lord Narayana's closet has been started from yesterday.
Steps in Closing of Badrinath Dham
– After Ganesh Poojan on November 15, the valves of Lord Ganesh has been closed.
– Today, the sacred Adikedeshwar temple will be closed with the Annkoot Puja.
– On November 17, the reading of the Kadhak book, Vedic books and copper letters will be stopped.
– After this, there will be special worship and call of Goddess Lakshmi in the afternoon of 18 November.
– From the morning on November 19, Vigrah doli of Lord Narayana will be decorated with flowers.
– After Bhogh Prasad and regular worship in the afternoon, the Chief priest of Badrinath Dham Mandir, dressed as women, will take the Vigrah of the Goddess Lakshmi from Lakshmi temple and placed with Lord Shri Hari Narayana for the winter season.
– Then Raval will take out the idols of Kuber, Uddhav and Garuda from the temple
– After the closure of temple, the idol of Kuber will remain in the village of Bamdi while the idols of Uddhav and Garuda will remain in the Raval residence.
– After the closure of the temple, the Vigrah of Lord Narayana will be wrapped in a blanket knitted by the teenage girls of Mana village.
Doli will depart for Pandukeshwar
After the closure of the valve, the statue of Lord Uddhav, considered to be God's representative, is sent to Pandukeshwar in Doli. As per tradition, worshiping Uddhav Doli in the form of Vigrah is being done to take blessings of Lord Badrinath in winter season.
According to Acharya Satya Prasad Chamola, additional Dharmadhikari of Shri Badrinath temple, all the preparations of Panch Pooja have been prepared before the closure of the Kapat and in the last days, the number of pilgrims along with the local is also increasing. Pilgrims are likely to arrive in large numbers on the day of closure of Badrinath Dham.
---
---
Published Date: November 16, 2017
---