Badrinath Temple Opens to Devotees
---
---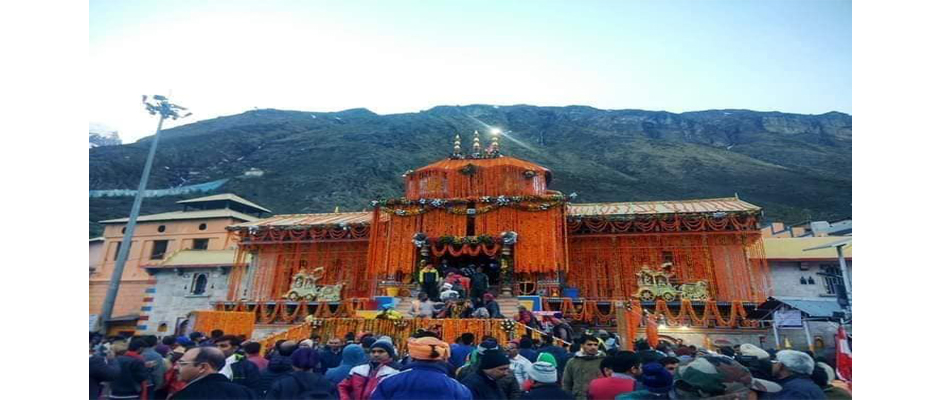 Badrinath Temple on Opening Day 2019
After the winter migration, the door of Badrinath Temple was opened on Friday at 04:15 am for all the pilgrims. On the opening day of Badrinath, the pilgrims from all over the world have begun to reach the shrine for a glimpse of the Akhand Jyoti burning for six months. Meanwhile, Governor of Uttarakhand, Baby Queen Maurya, and former Chief Minister Ramesh Pokhriyal Nishank were present at Dham.
---
---
---
---
Badrinath Temple open to devotees at 05:35 am
With the opening of the Badrinath Temple, the Chardham Yatra has started. Earlier, on Thursday, the Doli of Lord Uddhav and Kuber Ji, Paddings of Aadi Guru Shankracharya and Tel Kalash Yatra reached Badrinath from Yoga Dhyan Temple of Pandukeshwar at afternoon under the leadership of Lord Raval of Badrinath (Chief priest) Ishwari Prasad Namboodari, Nayab Raval Sankaran Namboodari, Dharmadhikari Bhuvan Chandra Niyanil and Other Priests of Badrinath.
These traditions were completed before the opening of Doors
• At 02:00 o'clock in the morning – Temple staff posted on duty.
• At 3 o'clock in the morning – the entrance of Lord Kuber from the south gate of Badrinath.
• At 3:00 to 3.30 am – Entry to the temple from gate number three of specific persons.
• At 3.45 am- Raval Ji, Dharmadhikari and Other priests enter the temple with Uddhav Ji.
• At 3.40 am- Door worship by Raval and Dharmadhikari.
• At 04:15 am – Doors of Badrinath Temple opens to devotees
• At 11:00 pm, the worship of Lord Badrinath in the sanctum will start.
---
---
Published Date: May 10, 2019
---
Add Comments and Suggestions or Ask Questions about "Badrinath Temple Opens to Devotees"
We would be glad if you can comment below and provide your valuable suggestions and feedback on Badrinath Temple Opens to Devotees. If this Badrinath Temple Opens to Devotees page have any wrong information/list or out of context content, then you can report us as well.
If you have any questions, you can also ask as in the following comments section. Our team will try to provide you answers/solutions.