Badrinath Witness Record Pilgrims Footfall
---
---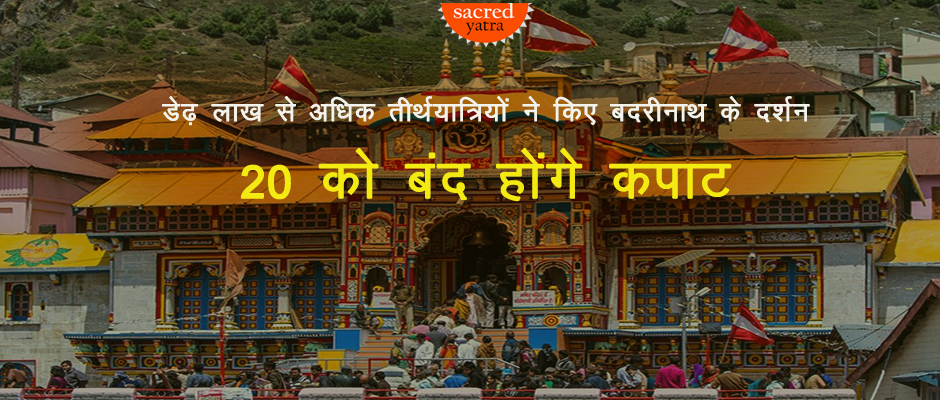 Badrinath Dham witness record footfalls
The shout of devotees along with the praise of Jai Badrinath shows their unwavering reverence towards God. Despite of the tremendous storms and the delusion of the weather, lakhs of devotees came to visit Lord Badrinath. The doors of Badrinath Dham will be closed on November 20. So far 1,54,670 pilgrims have visited Badrinath Dham. These days, despite the severe cold, there is a crowd of pilgrims in the Badrinath Dham. On Wednesday, 2040 pilgrims had darshan of Lord Badrinath.
---
---
---
---
Without thinking about the weather conditions at Badrinath, the devotees are constantly reaching to view Badrinath Dham.
In view of Covid, on September 17, with limited numbers, pilgrims were allowed to visit Badrinath Dham. After getting the exemption on October 5, pilgrims started reaching Badrinath Dham in large numbers. These days thousands of pilgrims are reaching Badrinath Dham every day for darshan. Devasthanam Board's media in-charge Dr. Harish Gaur told that the number of pilgrims visiting Badrinath Dham has crossed 1.5 lakh.
---
---
Published Date: November 11, 2021
---
Add Comments and Suggestions or Ask Questions about "Badrinath Witness Record Pilgrims Footfall"
We would be glad if you can comment below and provide your valuable suggestions and feedback on Badrinath Witness Record Pilgrims Footfall. If this Badrinath Witness Record Pilgrims Footfall page have any wrong information/list or out of context content, then you can report us as well.
If you have any questions, you can also ask as in the following comments section. Our team will try to provide you answers/solutions.