Brand Promotion of Char Dham Yatra gets stuck
---
---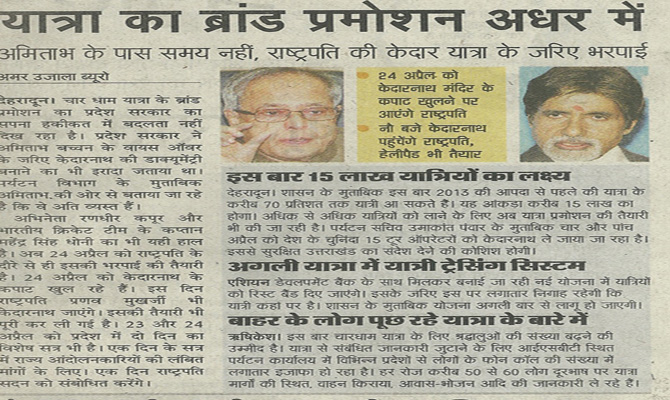 Brand Promotion of Char Dham Yatra gets stuck
---
---
Bollywood icon Amitabh Bacchan was offered to be the voice of Kedarnath in a voice-over documentary which now seems to be highly unlikely. Veteran Bollywood actor, Amitabh Bacchan who represents Gujarat was contacted for presenting the hill State on account of boosting Char Dham Yatra which has been down since 2013 calamity. According to the Tourism department, Big B will not be able to do so owing to the busy schedule.
Famous Bollywood actor Ranbir Kapoor and ace cricketer MS Dhoni share the same case. To deal with the situation President Panab Mukherjee has been invited to visit the Kedarnath Dham on the opening of its portal. Kedarnath Dhams portal are set to open on 24 April on the occassion of which President Panab Mukherjee will also be present. All preparations have been completed for the yatra. The state also has special session on 23 and 24 April. One session will focus on the demands of state revolutionaries while other session will be addressed by the President.
Target of 13 lakh devotees this year
Dehradun : According to the administration the tourist inflow is expected to rise by 70 percent i.e approximately 15 lakh this year after the disaster in 2013. To rope in more and more tourists several steps are being taken including Yatra promotion. According to Tourism Secretary Umakant Panwar, 15 tour operators from all over the country are being taken to Kedarnath on 4 and 5 April. Which will also spread the message of safe Yatra to the devotees in the world.
Yatra tracing system in the next yatra
In association with Asian Developement Bank, the travellers will be given safety wrist bands which will be connected to GES and GPS system. With the help of which tracing of evey passenger will be an easy task. Administration claims to implement the system next yatra onwards.
Surging enquiry for Char Dham Yatra
Rishikesh : The number of devotees visiting for Char Dham Yatra is likely to increase this year. The Tourism Office situated in Dehradun ISBT told that the number of phone calls regarding Char Dham Yatra is increasing day by day. Everyday more than 50 – 60 people call asking for various informations of Yatra like conditions of the route, transport fare, lodging-food related etc reflecting the increasing interest.
News Src : Amar Ujala, Dehradun
---
---
Published Date: April 2, 2015
---
Add Comments and Suggestions or Ask Questions about "Brand Promotion of Char Dham Yatra gets stuck"
We would be glad if you can comment below and provide your valuable suggestions and feedback on Brand Promotion of Char Dham Yatra gets stuck. If this Brand Promotion of Char Dham Yatra gets stuck page have any wrong information/list or out of context content, then you can report us as well.
If you have any questions, you can also ask as in the following comments section. Our team will try to provide you answers/solutions.