BRO personnel, unsung heroes of yatra preparations
---
---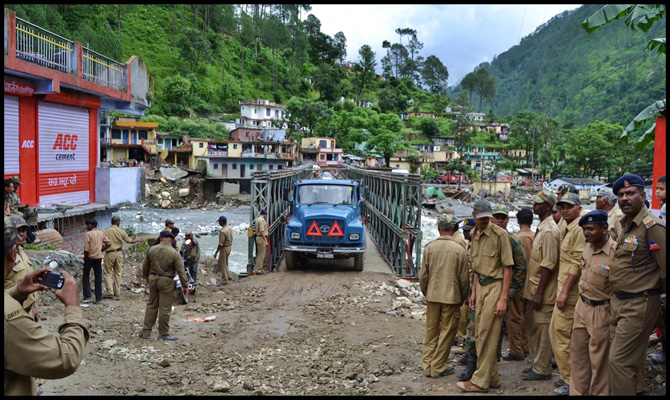 BRO personnel, unsung heroes of yatra preparations
---
---
The personnels of Border Road Organization (BRO) are leaving no stone unturned in giving smooth yatra to the pilgrims. Amid the heavy snowfall or heavy showers, the personnels are 24/7 on the round to check for any sort of hurdle in the route.
While removing snow from Haathi Pahad which posed as blockage in Char Dham Yatra, some BRO personnel were injured but it did not stop them from their mission to ensure an uninterrupted pilgrimage season. About 1,500 labourers and 500 BRO personnel have worked in close coordination since January this year for the yatra preparations.
So far, more than four lakh pilgrims have done darshan of four holy shrines. And is expected to go up in coming months.
Every year in January, the BRO helps in clearing the snow in higher reaches. However, this year snowfall was more-than-expected which turned out as a difficult task to tackle.
Brigadier Gurgopal Singh, chief engineer of Project Shivalik of BRO, said "Kanchanganga river, just 2 km before Badrinath temple was frozen and lots of snow had accumulated on the road. The BRO team worked for 12 hours a day to clear the stretch."
Deep snow had frozen in Badrinath on the main road, for which BRO personnel used steel plates at Kanchanganga to help pilgrims reach the temple smoothly. The conditions, when the entire operation was carried out, were freezing and frequent rains made the situation even worse but the BRO team relentlessly worked on to help the timely start of pilgrimage to Badrinath.
The biggest challenge stood in front of BRO as soon as the char dham yatra started with opening of portals.
A massive landslide took place on April 29 which blocked the Hathi Pahaad route in Vishnuprayag area and affected Badrinath yatra for almost a week. The route was then opened to public on April 26 and within three days the landslide blocked the route.
During the process of removing debris, one of the BRO personnel, Major Roopjyoti Das suffered serious injuries. Besides, one of the heavy machines got trapped in the debris. While the state government opened an alternative route BRO personnel got into the act and cleared the path within five days.
Taking pre-measures against it, the BRO has already placed heavy equipments at places which witness perpetual landslides like Patalganga, Tangni, Pagal Naagr, Lambagarh on Rishikesh-Badrinath and Nalupani, Matli, Bandarkot, Bhatwari and Sukhitop on Rishikesh-Gangotri route.
News Source : Times of India, Dehradun
img src : bcmtouring
---
---
Published Date: June 23, 2015
---