Char Dham Green Signal to the Outside Vehicles
---
---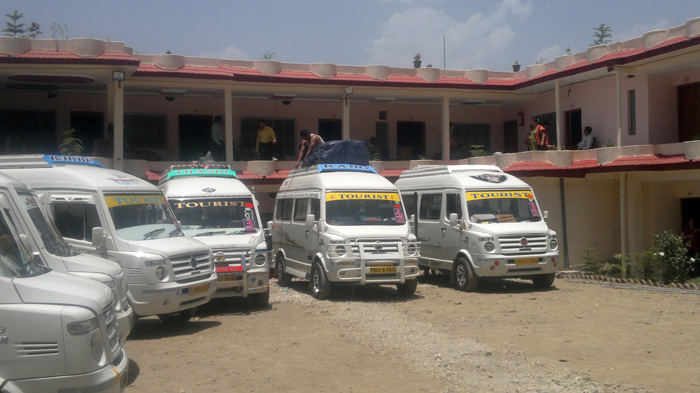 Hotel DevBhoomi in Barkot
---
---
The ban on external states commercial vehicles in Char Dham has become contentious in the past few days. Where the taxi-maxi drivers are in support of banning the entry of external state vahicle, the technical problems have lead to the newer options. According to transportation officials Chardham Yatra comprising transport committee has recommended conditional entry for external vehicles.
According to it, the external vehicles will be granted a green card for one-time entry. Which means for another entry they will be required to get another green card. The local transporters have urged the administration to allow only state vehicles to go for the yatra this year. They state because of the 2013 disaster they suffered a great loss affecting the tourism business badly. The government set up a committee to make recommendations to the Department of Transportation which was chaired by the RTO technical, Sudhanshu Garg.
Four days before the Committee recommendations were posed to the Principal Secretary of Transportation. It was told that the local transporters want the external vehicles get restricted, but it was not possible because of technical issues. The recommendation of allowing outside vehicles via Green Card has been made to allow one-time entry. Green-Card is issued by the Department of Transportation to the Chardham Yatra vehicles. Till last year the card was issued with validity of 2 months but now this facility will only be availed by the local vehicles. External vehicles will also be granted green-card but with only one-time entry restricted to it.
For instance, if it takes 12-day trip to cover the Char Dhams – the card will be valid for that period only. For visiting again a new green-card will be required to get issued . Besides, the tax for external vehicles will be charged at once of two months together. As per the new green-card they will not be required to pay any tax. The committee member, Additional Divisional Transport Officer Sandeep Saini said it is not possible to put ban on the entry of external states vehicles. Keeping that in mind the green-card system is being considered.
News Src : Dainik Jagran, Dehradun
---
---
Published Date: March 25, 2015
---
Add Comments and Suggestions or Ask Questions about "Char Dham Green Signal to the Outside Vehicles"
We would be glad if you can comment below and provide your valuable suggestions and feedback on Char Dham Green Signal to the Outside Vehicles. If this Char Dham Green Signal to the Outside Vehicles page have any wrong information/list or out of context content, then you can report us as well.
If you have any questions, you can also ask as in the following comments section. Our team will try to provide you answers/solutions.