CharDham closing dates announced
On the auspicious day of Vijaydashmi, the closing date of kapat of Badrinath has been declared. The sacred dham of Badrinath will be closed on 19 November at 7.28 pm for winter season. Apart from this, the date for closure of the Kadarnath, Gangotri and Yamunotri kapats has already been announced. Kedarnath, Gangotri and Yamunotri Dham kapat will be closed on October 21.
On Saturday, under the chairmanship of Badrinath's Raval Ishwar Prasad Namboodari, Dharmadhikari Bhuwan Chandra Uniyal and Vedpathis announced the date after Pachang calculation. On this occasion, Badrinath-Kedarnath Temple Committee's Chief Executive Officer, BD Singh was also present. The dates of closure of the kapats of second Kedar Madameshwar and third Kedar Tungnath was also announced.
The gates of Madhyamaheshwar and Tungnath Dhams will be closed on November 22 and October 27 respectively.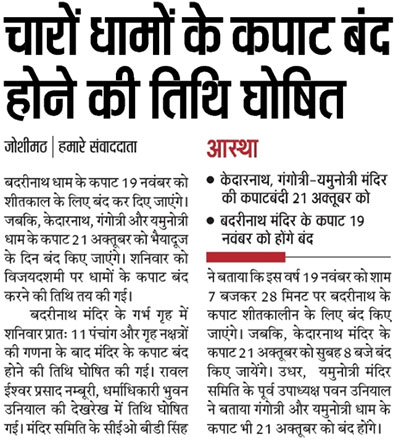 ---
---
Updated On: October 3, 2017
---
Add Comments and Suggestions or Ask Questions about "CharDham closing dates announced"
We would be glad if you can comment below and provide your valuable suggestions and feedback on CharDham closing dates announced. If this CharDham closing dates announced page have any wrong information/list or out of context content, then you can report us as well.
If you have any questions, you can also ask as in the following comments section. Our team will try to provide you answers/solutions.