Chardham Yatra SOP released amidst Covid
---
---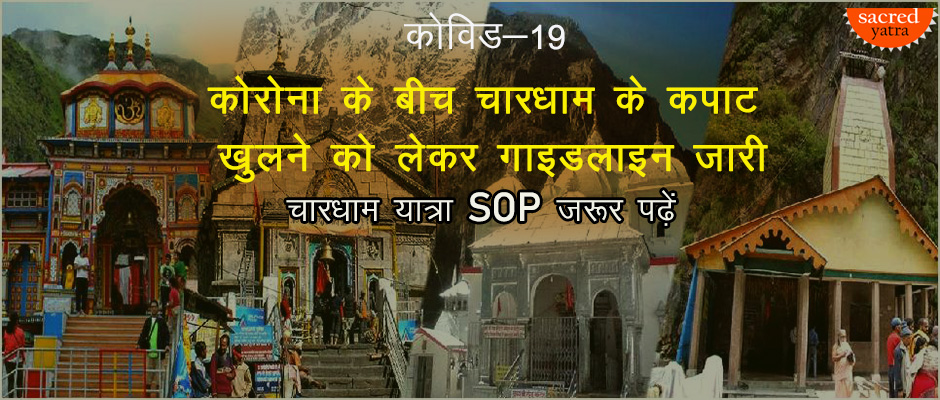 Chardham Yatra SOP
With the opening of Yamunotri Dham on the occasion of Akshaya Tritiya in Uttarakhand on 14 May, the Chardham Yatra will begin. This time the pilgrims are not allowed to visit Chardham in view of the corona infection. But, the doors of the Char Dhams will open at their own time.
On Tuesday, Ravinath Raman, Chief Executive Officer of Chardham Devasthanam Management Board, has issued SOP for opening the doors of Chardham Temples. Under which the doors of the Char Dhams will be opened daily from seven in the morning to seven in the evening.
---
---
---
---
The doors of the Char Dham will open on these days
The Yamunotri Dham kapat will open on Akshaya Tritiya on May 14 at 12.15 am and Gangotri Dham kapat will open on 15 May at 7.31 am. While the doors of Kedarnath will open at 5 am on May 17 and the doors of Badrinath Dham will open at 4.15 am on May 18.
The doors of the Char Dham will open in a symbolic form
The doors of the Chardham will be opened on the scheduled dates but in symbolic form. Garhwal Commissioner and Uttarakhand Devasthanam Board Chief Executive Officer Ravinath Raman said that priests and rightful persons belonging to the puja tradition in the Chardhams will be allowed to go only after showing the corona negative report. In the Char Dhams, the Covid-19 protocol will be fully followed. Gates of Chardhams will open in a symbolic manner on predetermined dates and traditionally the puja archana will continue. But no devotees will be allowed to visit Chardham Yatra.
Postponement of Chardham Yatra welcome
Vinod Dimri Sriram, president of Badrinath Dimri Religious Central Panchayat, welcomed the decision of the state government to postpone the Chardham Yatra. He appealed to the people to meditate on Bhagwan Badrivishal by staying at home to break the chain of corona infection. The said devotees will get an opportunity to have darshan of Lord Badarivishal when the condition of corona infection is normal.
Chardham Yatra SOP – Important Directions
No pilgrims allowed to visit Chardham Yatra
All Chardham Temples will open from 7 am to 7 pm
Regular Sanitization and Thermal Scanning
Only persons related to Puja and temple with no symptoms will be allowed to enter
Only Priest, Rawal and related person will be allowed in sanctum sanctorum
No touch to Idols, Bells, Granths etc
No Prasad distribution and no tika in temples
No repetitive use of mats, sheets in temples
---
---
Published Date: May 4, 2021
---
Add Comments and Suggestions or Ask Questions about "Chardham Yatra SOP released amidst Covid"
We would be glad if you can comment below and provide your valuable suggestions and feedback on Chardham Yatra SOP released amidst Covid. If this Chardham Yatra SOP released amidst Covid page have any wrong information/list or out of context content, then you can report us as well.
If you have any questions, you can also ask as in the following comments section. Our team will try to provide you answers/solutions.