Importance of Chaulai Laddu in Badrinath Temple
---
---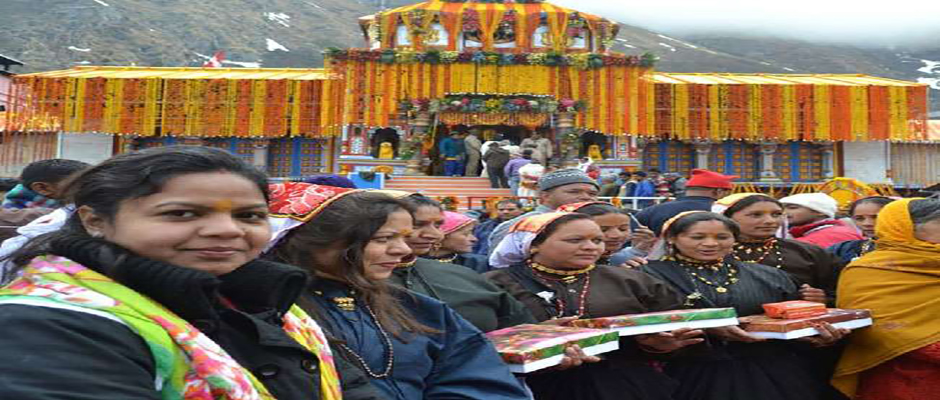 Importance of Chaulai Laddu in Badrinath Temple
Education up to class 5
th
and typical Garhwali style, but vitality is such that no one can live without convincing. This is the identification of 57-year-old
Govind Singh Mehar
, a resident of Chaka Motha Village, located at Ghat Block, Chamoli district of Uttarakhand. By staying in the village, he made Chaulai Laddu and Manduwa Biscuit and this work has given him a different identity today. Today, with his efforts, Chaulai Laddu becomes main Prasad of many temples, including
Badrinath Dham.
Govind Singh started making Manduwa Biscuit and Chaulai Laddu in year 1998. Due to being sugar free, people took these products hand to hand. Inspired by this, he decided to establish Chaulai's Ladoo in the form of Prasad in the temples and connect the locals with employment. In 2006, with the help of the HESCO Institute, he initiated the offerings of Chaulai's Laddu in Badrinath Temple. Besides, as a master trainer, more than 150 women from villages such as Joshimath, Merag, Ganeshpur, Bamani, Paini etc. were also trained to make Chaulai Laddus and Manduva biscuits
---
---
Importance of Chaulai Laddu  Prasad  in Badrinath Temple
Earlier in the temples Prasad made from Chaulai, Manduwa and Wheat Flour are distributed among devotees. But now it was replaced by sweets etc. In Badrinath Temple, Gram Dal, Mishri, Cashew, Kismis etc also distributed as Prasad. But, on the initiative taken by Govind Singh Mehar, once again Chaulai Laddu has become a special part of Prasad in Badrinath Temple.
The women's trained by Govind Singh, last year they earned around Rs.19 Lakh by selling Chaulai Laddu and Manduwa Biscuit. Currently the monthly income of per women is more than Rs.10, 000.   With increasing demand for products, people are now paying special attention to the cultivation of Chaulai and Manduwa in the area.
More Details about Chaulai Laddu & Manduwa Biscuits
Govind Singh explains that Laddu Prasad is available in packs of 51 and 101 rupees. Badri-Kedar's photo has also appeared on these packets. At present, Chaulai Laddu is being to devotees in the form of Prasad at Badrinath Temple, Mansa Devi (Haridwar), Har ki Pauri and Chandi Devi Temple (Haridwar), Purnagiri Temple (Tonkpur) and Golu Devta Mandir (Almora). There is a great demand for this because the Laddu's are sugar-free.
In the Mansa Devi temple of Haridwar, the Prasad made from Chaulai, kuttu, Ghee and Meva have become the choice of pilgrims. Presently, ten women from Ruhaleki village of Bahadarabad, belonging to the self-help group, are preparing the offerings of Chaulai for the temple. It earns up to Rs.500 a day
PM Modi in MANN KI BAAT
Prime Minister Narendra Modi lauded the women's making the Manduwa biscuits in Munaargaon (Bageshwar) of Kapkot Block in the talk show "MANN KI BAAT". He had described it as beneficial to health. As a result, this biscuit got recognition throughout the country. Even in Munaargaon, 965 women were trained in 2017 for three months by Govind Singh, to make biscuits from other local products including manduwa.
---
---
Published Date: August 18, 2018
---