CM Rawat gives grand send-off to Gaadu Ghadi
---
---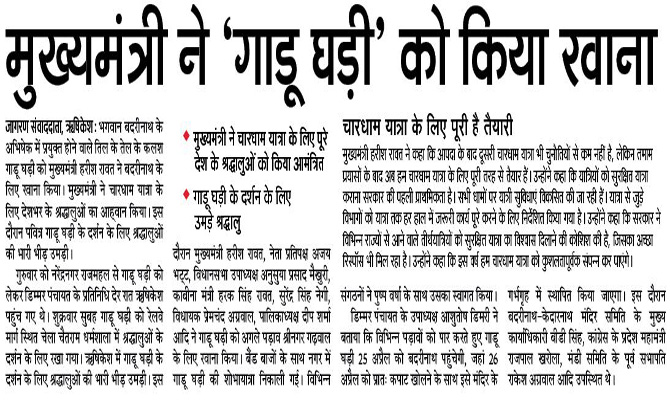 CM Rawat gives grand send-off to Gaadu Ghadi
---
---
In the ages old ritual of Uttarakhand, CM Harish Rawat paid the obeisance to the sacred sesame oil Gaadu Ghadi which is used in the consecration of Lord Badrinath and was then sent off to Badrinath. The ceremony attracted a large number of people to see the holy Gaadu Ghadi. CM also invited the devotees from all over the world to visit the Char Dhams in his message.
On Thursday, Dimmer panchayat representatives reached Rishikesh from the Narendrangar palace with the sacred Gadu Ghadi late evening. Friday morning, Gaadu Ghadi was placed in Chela Chaitram on railway road for darshan. Rishikesh drew huge crowds of devotees for darshan of Gaadu Ghadi. Following day the Chief Minister Harish Rawat, Leader of Opposition Ajay Bhatt, Deputy Speaker Makhuri Anusuya Prasad Maikhuri, cabinet ministers, Hrk Singh Rawat, Surendra Singh Negi, MLA Prem Chand Aggarwal, Palikadhyksh Deep Sharma etc. paid homage to the Gaadu Ghadi and sended-off it to its next stop Badrinath. This Gadu ghadi containing the oil is given a grand traditional send-off to Badrinath in the Gadu Ghadi Yatra.
During the ceremony head of Badrinath-Kedarnath Temple Committee CEO BD Singh, Congress general secretary Rajpal Kirola, Ex Head of Mandi Samiti Rakesh Agrawal, Jayendra Ramola, Jyoti Sajwan, Sanjay Shastri, Devendra Dutt Saklani, Gaadu Ghadi Yatra Samiti Head Saroj Dimri, President of Dimri Dharmik Panchayat Suresh Dimri, Sarpanch Jyotish Dimri, Sanat Shastri, Dinesh Sati, Kapil Gupta, Rajkumar Agarwal, Rakesh Miya, Akshat Goel, etc were present.
Vice President of Dimmr panchayat Ashutosh Dimri said crossing different stages Gaadu Ghadi will reach Badrinath on April 25, where it will be installed for opening the valve on April 26 early morning.
All preparations done for Char Dham Yatra
Minister Harish Rawat said after the catastrophic flash floods of 2013, the second Char Dham Yatra is no less than a challenge. Despite the challenges, we have made the Yatra possible this year. Safety of the devotees is our first priority, he added. The departments related to the Yatra have been strictly instructed to complete the necessary work by the onset of it. He also stated that Government is trying its best to reinstate the confidence in pilgrims, for which it has already received a substantial response. This year yatra will be efficienly concluded, he said.
News Src : Dainik Jagran, Rishikesh
---
---
Published Date: April 11, 2015
---