Uttarakhand High Court lifts ban on Chardham Yatra
---
---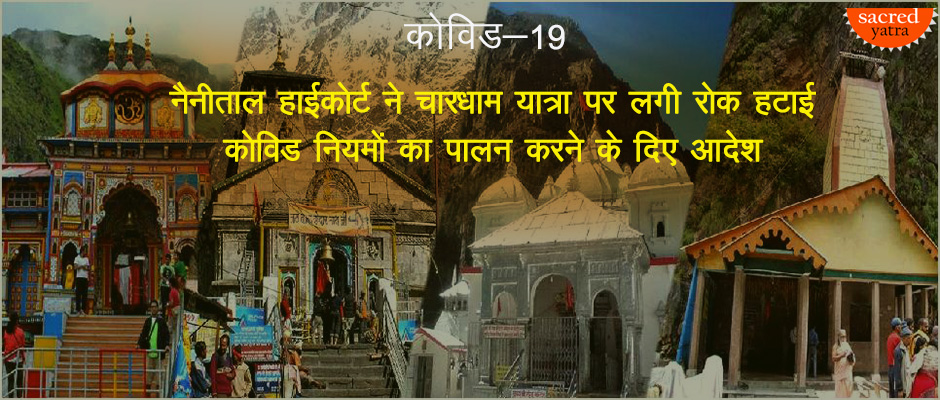 Court lifts ban on Chardham Yatra
Uttarakhand High Court has lifted the ban on Chardham Yatra. On Thursday, during the hearing held in the High Court, the High Court has withdrawn the June 28 decision of ban on Chardham Yatra in Uttarakhand. Following the rules of Covid-19, the court has ordered to start the Chardham Yatra.
---
---
---
---
Government will issue new SOP for Chardham Yatra
During the hearing on Thursday, the Advocate General on behalf of the government said that the corona infection is now under control. In such a situation, the ban should be removed from the journey. The government will issue a new SOP for the Chardham Yatra. While pronouncing the verdict, the court said that 800 passengers will be allowed in Kedarnath Dham, 1200 passengers in Badrinath Dham, 600 in Gangotri and 400 in Yamunotri every day. Travelers will not be able to take bath in any of the sacred kunds.
Negative report, Vaccine certificate mandatory for Chardham Yatra
It will be mandatory for every passenger to bring Covid-19 negative report and vaccine certificate for Chardham Yatra. The court has also directed to deploy police force as required during the Chardham Yatra to be held in Chamoli, Rudraprayag and Uttarkashi districts.
---
---
Published Date: September 17, 2021
---
Add Comments and Suggestions or Ask Questions about "Uttarakhand High Court lifts ban on Chardham Yatra"
We would be glad if you can comment below and provide your valuable suggestions and feedback on Uttarakhand High Court lifts ban on Chardham Yatra. If this Uttarakhand High Court lifts ban on Chardham Yatra page have any wrong information/list or out of context content, then you can report us as well.
If you have any questions, you can also ask as in the following comments section. Our team will try to provide you answers/solutions.