Delhi Merchant Donated 200 kgs Silver Kedarnath Temple Decoration
---
---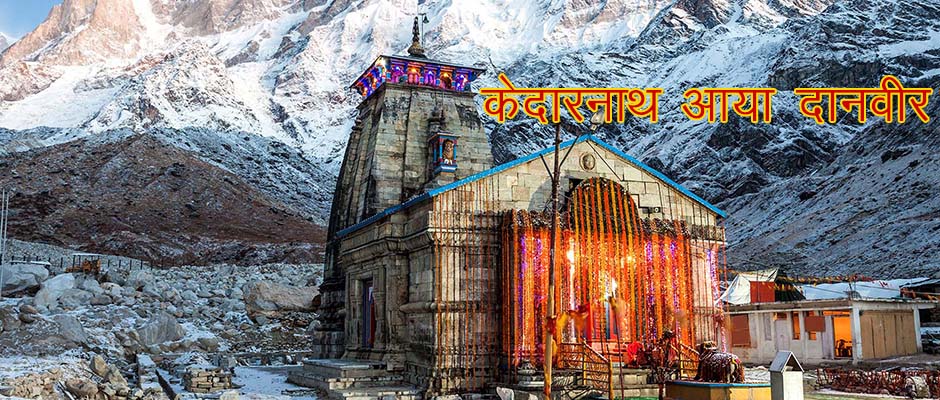 Kedarnath Temple Donation
The glory of Baba Kedar of Uttarakhand is unparalleled. Everyone is lost in natural beauty surrounding Kedarnath. Similarly, people are surprised to see this ancient temple in between the mountains. Whole world visit Kedarnath and takes blessing of Baba Kedar. Baba's devotees are located across the globe. Recently a trader from Delhi has donated 200 Kgs of silver in Kedarnath temple. It is being told that silver will be used on the pillars in the temple sanctum and carvings will be done over them.
---
---
---
---
Apart from this, the temple will also be decorated with silver. It is not that the trader from Delhi have donated this silver all of a sudden. Actually this merchant had told his interest in donating silver to temple committee a year ago. Mahesh Sharma is the name of businessman who donated 200 Kgs of silver. He sent a proposal to the temple committee to do the decoration of the temple sanctum with silver.
The temple committee has approved his proposal after discussing with Priests. Surprisingly, the merchant has also sent artisans to Kedarnath for the work of silver. It is believed that this work will be completed in this travel season. Kedarnath temple has received Rs.5 crore as donation this year. You will remember that in 2015, Morari Bapu had donated Rs.1 crore for beautification of the temple.
In 2016, industrialist Mukesh Ambani had donated 50 lakh rupees for worship material. So far this year, 7.50 lakh devotees visited the holy shrine of Badrinath. With this, the temple committee received record income this year. So far in this season, an amount of 11 crore 50 lakh has been received as donation.
There is a continuation on arrival of passengers in Kedarnath Dham also. On Monday, 2128 passengers reached Baba Kedarnath's Dham. After the rainy season, the journey to Kedarnath has speed up again. The country's 14th President Ramnath Kovind is also going to visit Kedarnath next week.
So far the program says that on September 22, the President is visiting Kedarnath for the first time. The President is also known as the great devotee of Baba Kedar. Along with it, it is said that before President Kovind, BJP President Amit Sah Kedarnath is coming. BJP supremo is coming Uttarakhand for a 3-day stay from September 19.
---
---
Published Date: September 14, 2017
---