33 Lakh Pilgrims Visited Chardham Yatra till Days
---
---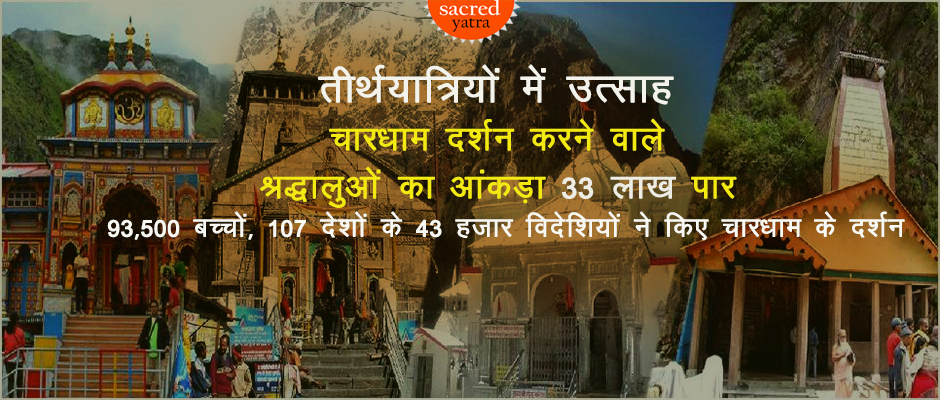 Pilgrims visited Chardham Yatra so far
The number of pilgrims who have visited Chardham Yatra so far has crossed 33 Lakh. Over 33 Lakh pilgrims have visited Chardham Temples in till days. More than 10.94 lakh devotees have visited Kedarnath Dham.
According to the report released by the Tourism Department, from April 22 to Jun 23, more than 33 lakh pilgrims have visited Kedarnath, Badrinath, Gangotri and Yamunotri Dham. In this, 10,94,671 devotees have visited Kedarnath Dham, 9,99,640 in Badrinath, 5,84,112 in Gangotri, 4,97,295 in Yamunotri .
---
---
---
---
Youth Devotees Dominate Chardham Visits: Over 15 Lakh Young Yatris Explore Sacred Pilgrimage
The number of youths visiting the Chardhams has been more than 15 lakh young yatris in the age group of 20 to 40 visited, while more than 13 lakh devotees above 50 years of age have visited. 93,500 children in the age group of 1 to 10 years also reached Chardham with their relatives.
43 thousand foreigners have visited Chardham
During the Chardham Yatra, the sacred pilgrimage sites of Kedarnath, Badrinath, Gangotri, and Yamunotri witnessed an impressive influx of 43 thousand foreign travelers from 107 countries. Among these international visitors, Nepal, USA, and Malaysia stood out as the top three countries, with a majority of the passengers hailing from these nations.
Most of the devotees came from these states
This time in the Chardham Yatra, the maximum number of pilgrims have come from Maharashtra so far. Apart from this, a large number of devotees from UP, MP, Gujarat, Rajasthan, Delhi, Haryana, West Bengal, Andhra Pradesh and Bihar came for the Chardham Yatra.
Registration for Chardham Yatra mandatory
For Chardham Yatra, it is mandatory for devotees from outside Uttarakhand to register in Uttarakhand Tourist Care website. Pilgrims can get Chardham Registration Letter on the website for each devotee.
Police at Chardham route
Police force has been deployed for Chardham Yatra arrangements located in Chamoli, Rudraprayag and Uttarkashi districts of Uttarakhand. Police is keeping an eye on the entry routes of the Char dhams including Munikireti, Devprayag, Tehri, Uttarkashi, Barkot, Rudraprayag, Sonprayag, Joshimath, Pandukeshwar.
Pilgrims also visiting other places
Chardham, pilgrims are also visiting second Kedar Rudranath, third Kedar Tungnath, fourth Kedar Rudranath and Panch Badri, Yoga Badri Pandukeshwar, Dhyan Badri Urgam, Bhavishya Badri Subhai (Joshimath), Vriddha Badri Animath.
---
---
Published Date: July 4, 2023
---