Gaadu Ghada Tel Kalash Yatra will be short and limited due to Covid
---
---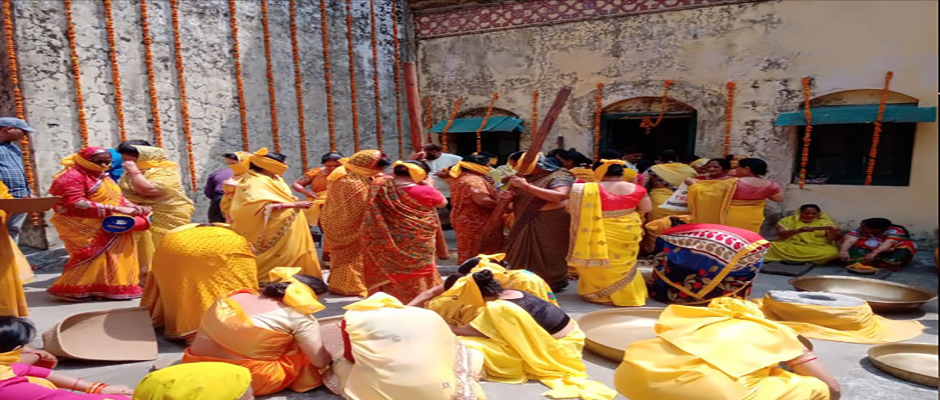 Womens doing preparation of Gaadu Ghada Tel Kalash yatra
The process of opening Badrinath shrine is started with the extraction of sesame oil for Gaadu Ghada yatra. A puja Archana takes place at royal residence Narendranagar Palace for Gaadu Ghada yatra. The tradition to get sesame oil for Badrinath shrine will concluded on 29 April at Royal Residence Narendranagar New Tehri Narandnagar.
---
---
---
---
The sesame oil used for the consecration of Lord Badri Vishal on the occasion of the opening of the doors of Shri Badrinath Dham will now be threaded at the Narendranagar Palace on April 29. On 29th April, this Kalash (Gadu pitcher) of sesame oil will leave for Badrinath Dham from Narendranagar Rajmahal.
Dr. Harish Gaur, media in-charge of Uttarakhand Chardham Devasthanam Management Board, said that in view of the Corona epidemic, the Telkalsha yatra has been greatly abbreviated by the Dimri Religious Central Panchayat. The stay and darshan program at Chela Chatharam Dharamshala Railway Road Rishikesh has been cancelled. Guidelines and rescue standards of Covid-19 will be followed in delivering Tel Kalash (Gadu Ghada) to Badrinath Dham. Wearing masks, physical distance and sanitization will be taken care of. Vinod Dimri, representative of Dimri Religious Central Panchayat has informed that this time only four members of Panchayat will be involved in Tel Kalash (Gadu Ghara) program.
On April 28, selected members of the panchayat will reach Narendranagar Rajmahal with the oil urn. On April 29, after permeating sesame oil in a traditional ceremony, the oil will be sent directly from the court to Badrinath Dham. Dimitri Panchayat officials Ashutosh Dimri and Pankaj Dimri said that in view of Covid-19, Gadu Ghada will reach Badrinath in a simple manner.
On the way, this time the night stay and darshan program has been canceled at places like Rishikesh, Srinagar etc. In the first phase, the Tel Kalash will reach the Lakshminarayan Temple of Dimmer, the original village of Dimri priests, from where the Tel Kalash will reach Badrinath Dham on the evening of 17 May. On 18th May, the doors of Shri Badrinath Dham will open at 4:15 in the morning.
What is Gaadu Ghada Yatra (गाडू घड़ा यात्रा)?
Under the leadership of Mala Rajyalakshmi Shah in the Royal Residence located in Narendranagar, sesame oil was extracted traditionally from traditional crusher and hand. To maintain this tradition, sesame oil is extracted by the married women's of Royal Family and Dimri Family. According to this old tradition, the oil extracted from Sesame seeds are used in coating the statue of Lord Badrinath and also used to Lit Akhand Jyoti in Badrinath Temple. This tradition is considered to be the beginning of the process of opening the Doors of Badrinath Dham. After extracting the oil, it is inserted into a pitcher (घड़ा) called Gaadu Ghara (गाडू घड़ा). After this, the pitcher or oil reaches Badrinath Dham via Rishikesh and through major cities of Garhwal. This is known as Gaadu Ghada Yatra (गाडू घड़ा यात्रा) or Tel Kalash Yatra (तेल कलश यात्रा).
---
---
Published Date: April 24, 2021
---