Gangotri National Park to open from 01 April, 2021 – Check how to get permit
---
---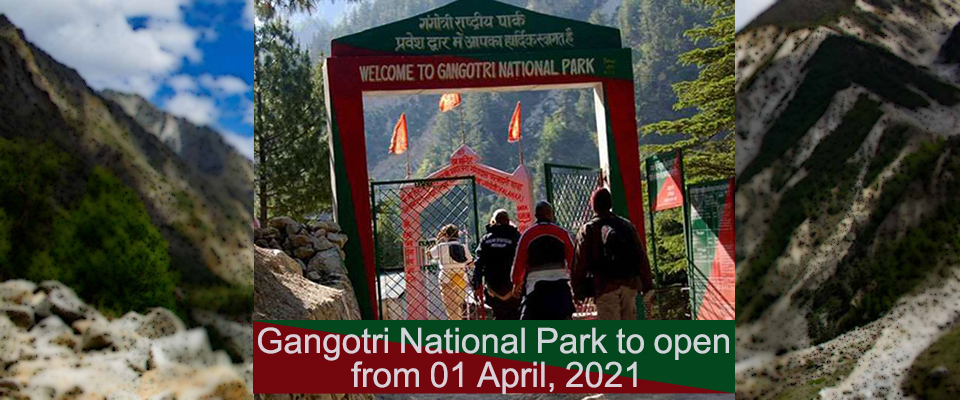 Gangotri National Park opening date
Tourists and mountaineers fond of adventure will be able to enter the Gangotri National Park area from April 1. The famous Gangotri National Park will open from 01 April, 2021. Tourists will be allowed to visit the park area only through local registered agencies. The park administration reviewed the arrangements for the Gangotri-Gomukh trek.
---
---
The Gangotri National Park has remained a tourist attraction for years due to the presence of the high Himalayan Gangotri-Kalindi-Badrinath trek and the Nelang Valley along the Indo-China border, as well as dozens of icebergs and Ganges-origin Gomukh, Tapovan, etc.
Check Some Famous Treks from Gangotri
Every year a large number of domestic and foreign tourists and trekkers reach here. The gates of the park were closed to tourists on 30 November last year in winter. With the opening of Gangotri National Park from April 1, the movement of tourists will start in the park area. Park administration has started preparations for this. On Thursday, the forest department team led by Forest Inspector Rajvir Rawat reiki from Kankhu Barrier to Bhojwasa.
GMVN's tourist house also closed
He said that there is still a lot of snow in the park area. Trek has been damaged in some other places including Kachchi Dhang due to heavy snowfall and landslides in winter. While there are heavy boulder deposits in some places. The Lal Baba Ashram and the GMVN Tourist Accommodation at Bhojwasa are also closed. Tourists who reach here in the month of April will get to see the snow-capped peaks.
Permission will be given to reach Kotbangla only
Pratap Panwar, forest officer of Gangotri National Park, said that the damaged parts of the Gangotri-Gomukh trek would be repaired. The arrangement of stay in Bhojwasa will be available only after the opening of the Gangotri Dham kapat on May 14. In such a situation, tourists have to trek with their arrangements for living and eating etc and then only will be allowed to go. Till the single window system for online permit for Gaumukh Trek is operational in the Collectorate campus, permission will be issued to tourists from the park's office in Kotbangla.
---
---
Published Date: March 20, 2021
---
Add Comments and Suggestions or Ask Questions about "Gangotri National Park to open from 01 April, 2021 – Check how to get permit"
We would be glad if you can comment below and provide your valuable suggestions and feedback on Gangotri National Park to open from 01 April, 2021 – Check how to get permit. If this Gangotri National Park to open from 01 April, 2021 – Check how to get permit page have any wrong information/list or out of context content, then you can report us as well.
If you have any questions, you can also ask as in the following comments section. Our team will try to provide you answers/solutions.