Gangotri & Yamunotri Dham ready to welcome pilgrims
---
---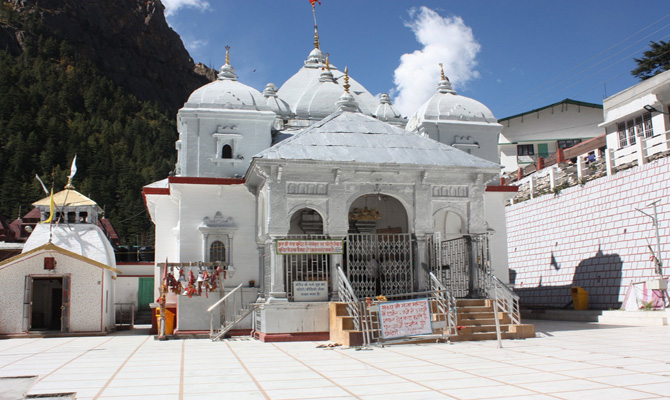 Gangotri Dham declared portal opening hours
---
---
Gangotri Dham looking for better pilgrims turnout after 2013 floods. The rush in the markets is starting to rise before the opening of shrines next months. The holy priests and business persons expecting for better yatra season. They all started makeover of markets on chardham routes.
The are more than 50 small or big markets between Rishikesh and Gangotri along 320 kms strech. After the opening of Gangotri Dham gates on 09 May, the pilgrims rush will increase on these places. There are around 29 hotels, guest houses, ashrams etc are open in Gangotri Dham. Many pilgrims has already reach at these places even before opening of shrine. The tourists also includes foreigners, making it looks like season time.
More than 70% hotels in Gangotri are pre booked for the chardham yatra. Overwhelm by the pre bookings, seasonal businessmen are preparing for good forthcoming season. Apart from new colourings, renovation and improvement in basic facilities is being done at accommodations.
Yamunotri all set to welcome pilgrims
For the forthcoming yatra season, Uttarkashi is preparing for recieving tourists. Hotel owners, shops on the chardham route are also renovating to welcome pilgrims. Hotels in Yamunotri dham and shops are refurbishing their premises. There are more than 800 hotels and guest houses on the yatra route to Gangotri & Yamunotri. As per District Hotel Association, all hotels are pre booked for May month. Many pilgrims ahs reached holy shrines even before opening of Gangotri & Yamunotri shrines.
---
---
Published Date: April 24, 2016
---
Add Comments and Suggestions or Ask Questions about "Gangotri & Yamunotri Dham ready to welcome pilgrims"
We would be glad if you can comment below and provide your valuable suggestions and feedback on Gangotri & Yamunotri Dham ready to welcome pilgrims. If this Gangotri & Yamunotri Dham ready to welcome pilgrims page have any wrong information/list or out of context content, then you can report us as well.
If you have any questions, you can also ask as in the following comments section. Our team will try to provide you answers/solutions.