GMVN Camps/ Tents in Kedarnath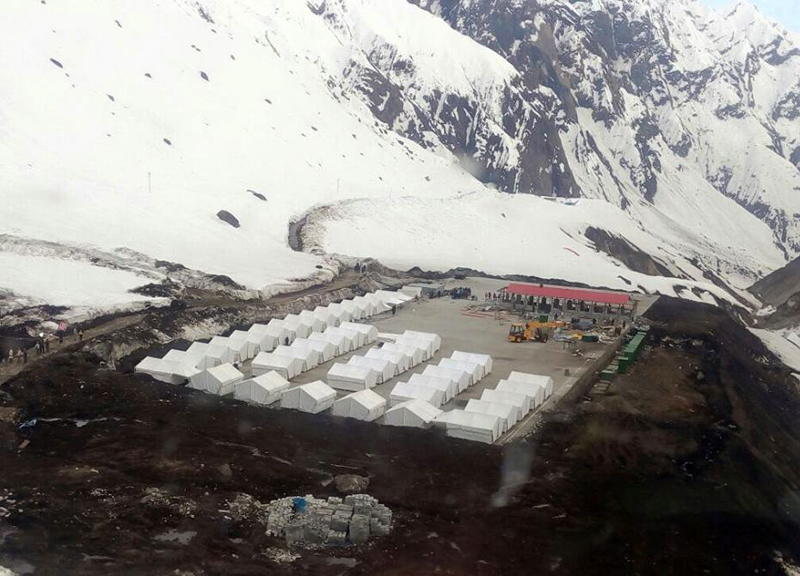 Another Aerial Picture of Kedarnath Tent Colony
Another Aerial Picture of Kedarnath Tent Colony (Src: NIM)
---
Lowest Rate
---
Rs 250 Onwards
---
Kedarnath has three camps comprising tents and pre fabricated huts for day and night stay for pilgrims. These camps are manage by GMVN department. More than 5000 pilgrims can accommodate in these camps located in Kedarnath.
All camps are located nearby Kedarnath helipad and available on budget price. These camps includes tents, cottages and fabricated compartment bedrooms. Each tent has good quality bed provided with warm blanket, as temperature in Kedarnath remains low most of the time. All accommodations are very clean and has separate common bathrooms/ toilets with adequate water facility.
Note : Pilgrims are advised to book in advance prior to Kedarnath visit.
GMVN Camps in Kedarnath Dham
Following is the list of camps and tents in Kedarnath temple.
Swarga Rohini Camp
The Swarga Rohini Camp in Kedarnath is located next to helipad. It offers dormitory cottages for pilgrims with quality bed and blanket.
Tariff : INR 500/- per person per night
Nandi Complex (Pre Fabricated Huts)
The Nandi complex is located near Kedarnath helipad. It has pre fabricated huts with ground bedding facility. Each huts has 6 bedded dormitory with attach bathroom.
Tariff : INR 500/- per person per night
Kedarnath Base Camp (1 kms)- Nandi Complex Tents
The base camp is located at 1 kms from the Kedarnath temple. It offers budget tent accommodations for pilgrims with common bathrooms and water facilities.
Tariff : INR 250/- per person per night
Food Facilities in Kedarnath Camps
GMVN is providing food facility for pilgrims in Kedarnath. The GMVN canteen offers Breakfast, Lunch & Dinner. The GMVN catering pilgrims on such high altitude at a budget price.
Breakfast – 70/- per plate
Lunch & Dinner – 130/- per plate
Contact Details of GMVN Camps in Kedarnath For Advance Booking
GMVN Dehradun (Head Office)
Garhwal Mandal Vikas Nigam Ltd.
74/1, Rajpur Road, Dehradun -248001
Tel.: 0135 – 2747898, 2746817, 2749308, 2748478, 2749272
Email: gmvn@gmvnl.com, gmvn@sancharnet.in
GMVN Rishikesh (Yatra Office)
Garhwal Mandal Vikas Nigam Ltd.,
Tourist Information Centre
(Advance Reservation Centre)
Shail Vihar, Haridwar Bye Pass Road,
Rishikesh – 249201
Tel.: 0135 – 2431793, 2431783, 2432648
Email: yatra@gmvnl.com, yatraoffice@sancharnet.in
---
---