Kedarnath Excursions
---
---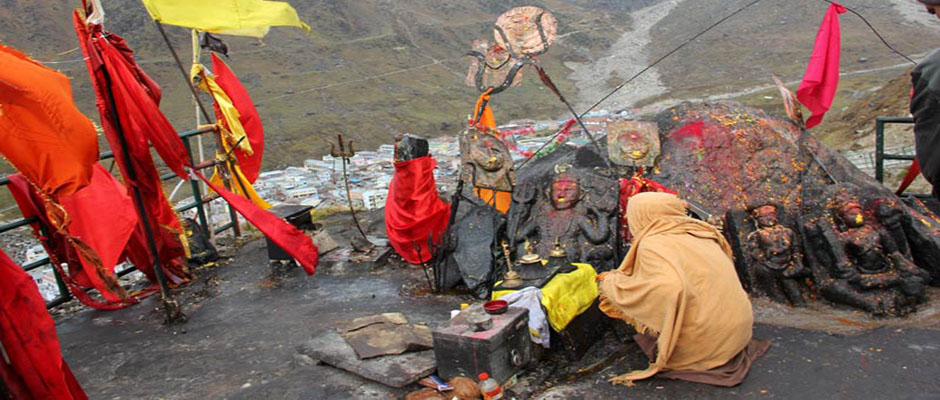 Bhairon Temple near Kedarnath
Important Tourist places near Kedarnath in Uttarakhand.
There are many pilgrimage and
tourist places near Kedarnath Dham
, some of them are high altitude lakes and trekking destinations as well. Following is the
list of Kedarnath excursions
, which pilgrimages can visit during their
Char Dham Yatra
or
Kedarnath Tour
.
---
---
Places To Visit Near Kedarnath
Triyuginarayan : 25 km. the mythological venue where the wedding of Lord Shiva and Parvati was solemnized. It is a short trek of 5 km from Son Prayag. An eternal flame, which is said to have been the witness to the marriage, burns in front of the temple even today.
Guptkashi : 49 km. Famous for the temples of Ardhnarishwar and Vishwanathji.
Chopta : Situated on the Gopeshwar Ukhimath road about 40 km from Gopeshwar at an altitude of about 2500 mtrs above sea level, Chopta is one of the most picturesque spots in the entire Garhwal region. It provides a breathtaking view of Himalayan ranges surrounding it
Deoria Tal: At an altitude of 2,440 mt., this beautiful lake is situated on the Chopta – Ukhimath motor road. In the early morning, the snow-capped peaks are clearly reflected on the lake waters. This lake also provides an excellent venue for angling, as well as birdwatching.
Panch Kedar : Kedarnath, Madmaheshwar, Tungnath, Rudranath, Kalpeshwer are the five most important temples of Lord Shiva in garhwal Himalayas. They are known as Panch Kedar.
Chandrashila: Chandrashila placed at an elevation of 3679 meter makes it a much desired trekking spot in the locality. Except in December to January, this peak is suitable for trekking and allied activities.
Agastyamuni: A temple by the name of Agasteshwar Mahadev is dedicated to sage Agastya and this temple is also of an archaeological significance, figures of Gods and Goddesses have been carved out on stones. 18 kms form Rudraprayag, at an altitude of 1000 mts and on the bank of river Mandakini, this is the place where Rishi Agastya meditated for years.
The Kedar Massif: This is an outstanding massif formed by the three major mountains – Kedar dome, Bharatekuntha (6578 Meters), is connected to Kedarnath to the East, by a long and dangerous avalanche ridden ridge. At 6000 meters it looks stunning and has several glacial flows, one of which is the Mandakini glacier running down its ridges.
Kalimath: It is situated at 6000 ft. Kalimath is the famous pilgrimage place of Garhwal. This temple belongs to Maa Kali. Dhaval river flows besides the temple.
---
---
Add Comments and Suggestions or Ask Questions about "Kedarnath Excursions"
We would be glad if you can comment below and provide your valuable suggestions and feedback on Kedarnath Excursions. If this Kedarnath Excursions page have any wrong information/list or out of context content, then you can report us as well.
If you have any questions, you can also ask as in the following comments section. Our team will try to provide you answers/solutions.