Heavy downpour halted Char Dham routes
---
---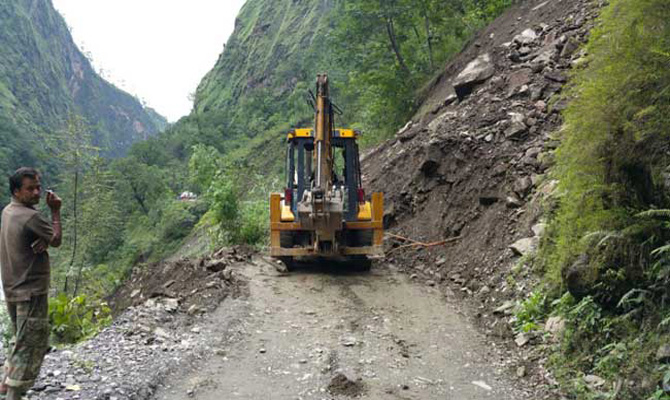 Kedarnath route resume but heavy rain forecast by MET
---
---
Heavy rainfall in Uttarakhand has hindered progress of Char Dham Yatra, especially in Kedarnath and Badrinath. Badrinath, Gangotri and Yamunotri highways are blocked due to landslide. But enthusiasm and faith of Kedarnath pilgrims remains firm, they continued their Yatra on foot to visit the shrine. On the contrary, no major adverse incident has been witnessed so far. On the other side the route of Kedarnath and Hemkund Sahib are smooth. But due to heavy rainfall which occured last night, Badrinath highway is hurdle near Methana due to spoilage.
In Gangotri Highway near Ratudi Serra, Barthi taxing, Laldang, Malla has to be hindered by landslip, while the Yamunotri and Hanuman Chatty and Foolcatty near National Highway is closed. Team of BRO and National Highway starts the work of restoration. In Rudraprayag district, the weather is clear. Today 162 passengers sailed from Sonprayag for Kedarnath Dham and from Govindghat 125 passengers were sailed to Hemkund Sahib. Meanwhile, in terms of the Kumaon Mandal Almora, Champawat, Udham Singh Nagar and Haldwani the downpour continues.
News Src : Jagran, Dehradun
---
---
Published Date: July 23, 2015
---
Add Comments and Suggestions or Ask Questions about "Heavy downpour halted Char Dham routes"
We would be glad if you can comment below and provide your valuable suggestions and feedback on Heavy downpour halted Char Dham routes. If this Heavy downpour halted Char Dham routes page have any wrong information/list or out of context content, then you can report us as well.
If you have any questions, you can also ask as in the following comments section. Our team will try to provide you answers/solutions.