09 Heli Companies to Provide Kedarnath Yatra
---
---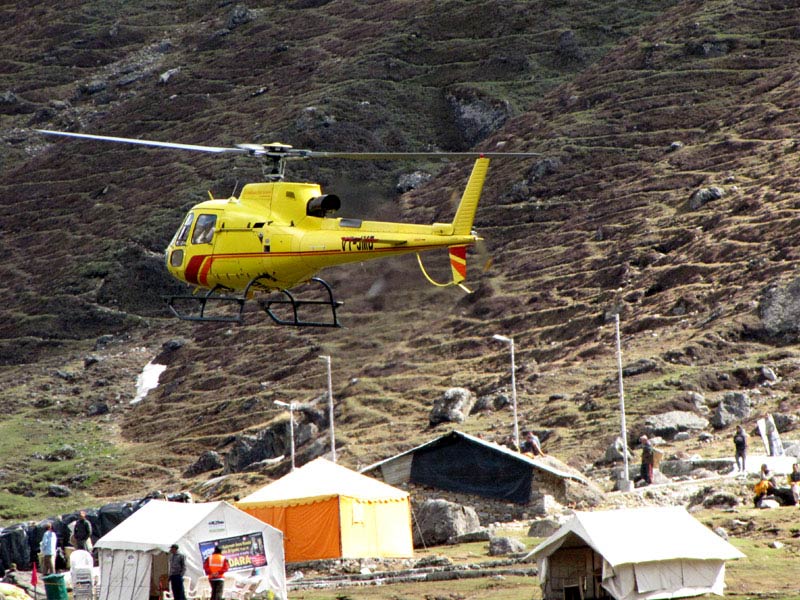 Helicopter service in Kedarnath
Uttarakhand Civil Aviation Development Authority (UCADA) has given license to 09 Heli companies to operate in Kedarnath Dham. Along with this, heli fare has also been fixed by Govt. One side fare has been decided separately from different places. In this order, the fare has been fixed from Rs.2470 to Rs.4275. Authorities have appealed to pilgrims not to pay more than the fixed rent in any form.
According to R. Rajesh Kumar, Additional Chief Executive Officer of UCADA, a total of 09 companies have been given permission under the heli service for Kedarnath Yatra. All companies have already started services in Kedarnath.
---
---
---
---
Helipads for Kedarnath route & Operational companies from those Helipads
Latest Helicopter Ticket Rates to Kedarnath & Hemkund Sahib
Good news for those pilgrims who are planning to visit Kedarnath or Hemkund Sahib through Helicopter. Now the Uttarakhand govt. has decreased the rates of Helicopter charges to Kedarnath as compare to last year. Here are the latest chopper rates.
Helicopter Charges to Kedarnath & Hemkund
| | | | |
| --- | --- | --- | --- |
| From | To | Charges (One way) | Charges (Round Trip) |
| Phata | Kedarnath | Rs.2399 | Rs.4798 |
| Sirsi | Kedarnath | Rs.2470 | Rs.4940 |
| Guptkashi | Kedarnath | Rs.4275 | Rs.8550 |
| Govindghat | Ghangharia | Rs.2895 | Rs.5790 |
---
---
Published Date: May 27, 2019
---
Add Comments and Suggestions or Ask Questions about "09 Heli Companies to Provide Kedarnath Yatra"
We would be glad if you can comment below and provide your valuable suggestions and feedback on 09 Heli Companies to Provide Kedarnath Yatra. If this 09 Heli Companies to Provide Kedarnath Yatra page have any wrong information/list or out of context content, then you can report us as well.
If you have any questions, you can also ask as in the following comments section. Our team will try to provide you answers/solutions.