09 Heli Companies to Provide Kedarnath Yatra
---
---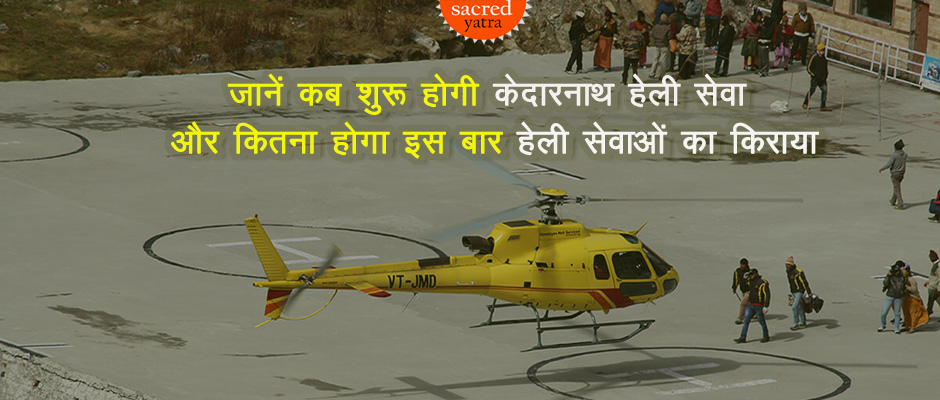 Kedarnath Heli Service booking will start soon
Kedarnath Heli Service Latest Update
Bookings for Kedarnath Heli service has been started through IRCTC website. Bookings slots for journey date 01 Sept – 30 Sept will open just on 22 Aug at 12:00 noon.
Uttarakhand Civil Aviation Development Authority (UCADA) has has given license to 09 Heli companies to operate in Kedarnath Dham. UCADA has entered into a three-year contract with nine companies to operate the Kedarnath Heli service. The heli services for Kedarnath will be available from Guptkashi, Phata, and Sirsi helipads.
Online booking for Kedarnath Helicopter Service is likely to start from April. IRCTC has started online booking of heli service tickets from the 08f April. UCADA has completed preparations for the Kedarnath Heli Service and has allotted the work to nine aviation companies. The government has fixed an upper limit for the fare hike, and the companies have not arbitrarily increased the fare of the heli service for three years.
---
---
---
---
The two-way fare for Kedarnath heli service from Guptkashi has been reduced by Rs 10, while the fare for heli service from Phata has been increased by Rs 780 and from Sirsi by Rs 818. UCADA CEO C. Ravi Shankar has stated that the contract was signed for three years, and the online booking of tickets for the heli service will start soon. IRCTC is currently conducting trials for its website.
Kedarnath Heli Service may Start from Sahastradhara also
In view of the rush of passengers for heli service in Guptkashi, Sirsi and Phata, this time the government is trying to start heli service from Sahastradhara also. For this, UCADA has sought applications from companies. Till now there is a facility of chartered helicopter from Sahastradhara. In which the helicopter fare is more than three lakhs. But it will not be possible for companies to operate Heli Service from Sahastradhara at low fare.
Heli Companies for Kedarnath
Nine aviation companies have been allotted the work to operate the heli service for the Char Dham Yatra in Uttarakhand. The heli service will be operated from Guptkashi to Kedarnath by Trans Bharat, Aryan Aviation, from Phata to Kedarnath by Pawan Hans, Global Vectra, Thumby Aviation and from Sirsi to Kedarnath by Krystal Aviation, Himalayan Heli and Aero Aviation.
Black Marketing of Heli Tickets will be Banned
Pilgrims have to face a lot of trouble for Kedarnath heli service during Chardham Yatra. Passengers have to wait for a long time after booking tickets online. Passengers complain that tickets are sold at rates higher than the fixed fare. In view of this, this time the responsibility of booking tickets for heli service is being given to IRCTC.
Helipads for Kedarnath route & Operational companies from those Helipads
Website for Kedarnath Heli Booking Tickets
IRCTC has launched the website https://heliyatra.irctc.co.in/ for booking heli service tickets. IRCTC has been prepared. Passengers will get the facility of ticket booking on this website.
Latest Helicopter Ticket Rates to Kedarnath
| From | To | Charges (One way) | Charges (Round Trip) |
| --- | --- | --- | --- |
| Phata | Kedarnath | Rs. 2750 | Rs. 5500 |
| Sirsi | Kedarnath | Rs. 2749 | Rs. 5498 |
| Guptkashi | Kedarnath | Rs. 3870 | Rs. 7740 |
---
---
Published Date: April 9, 2023
---