09 Heli Companies to Provide Kedarnath Yatra
---
---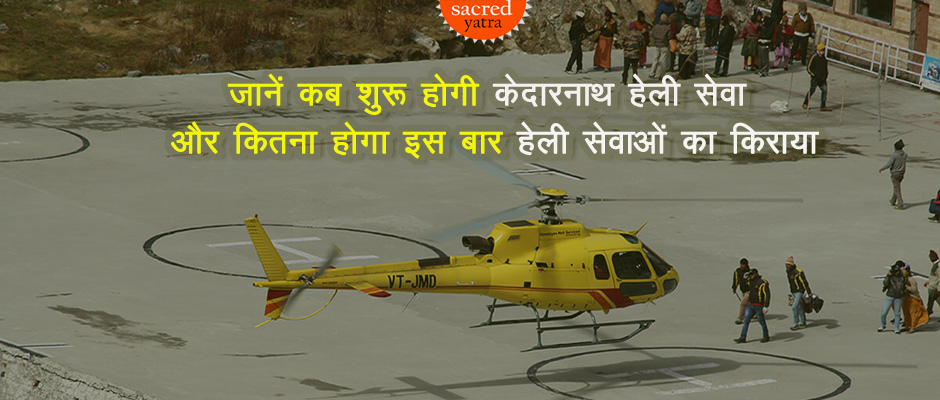 Kedarnath Heli Service booking will start soon
Uttarakhand Civil Aviation Development Authority (UCADA) has started tender process for Kedarnath Heli service. This time also a three-year contract will be signed for heli service with nine companies. UCADA will give license to 09 Heli companies to operate in Kedarnath Dham.
This time too nine aviation companies will be tied up for Kedarnath heli service in Chardham Yatra. For this, tenders have been sought from aviation companies till March 2. Online booking for Kedarnath Helicopter Service is likely to start from April after the selection of companies and fixing of fare for heli service operations.
---
---
---
---
Heli company for Kedarnath will be selected only after the rental rates, experience in heli service and other technical parameters. UCADA is trying to complete the process of contract in March and online booking of heli service can be started from the month of April. This time there is a possibility of 15 to 20 percent increase in the fare of heli services. The fare of heli service was not increased for the last three years.
Kedarnath Heli Service may Start from Sahastradhara also
In view of the rush of passengers for heli service in Guptkashi, Sirsi and Phata, this time the government is trying to start heli service from Sahastradhara also. For this, UCADA has sought applications from companies. Till now there is a facility of chartered helicopter from Sahastradhara. In which the helicopter fare is more than three lakhs. But it will not be possible for companies to operate Heli Service from Sahastradhara at low fare.
Heli Companies which Operated earlier
From 2020, nine aviation companies are operating heli service from Sirsi, Phata, Gupt Kashi. In which heli service from Guptkashi to Kedarnath through Arrow Air Craft and Aryan Aviation, from Phata to Kedarnath through Pawan Hans, Chipson Aviation, Thambi Aviation and Pinnacle Air and from Sirsi to Kedarnath through Arrow Air Craft, Himalayan Heli and Ketral Aviation was operated.
Black Marketing of Heli Tickets will be Banned
Pilgrims have to face a lot of trouble for Kedarnath heli service during Chardham Yatra. Passengers have to wait for a long time after booking tickets online. Passengers complain that tickets are sold at rates higher than the fixed fare. In view of this, this time the responsibility of booking tickets for heli service is being given to IRCTC.
Helipads for Kedarnath route & Old Operational companies from those Helipads
Latest Helicopter Ticket Rates to Kedarnath & Hemkund Sahib
A news for those pilgrims who are planning to visit Kedarnath or Hemkund Sahib through Helicopter. Now the Uttarakhand govt. may increase the rates of Helicopter charges to Kedarnath as compare to last year. Here are the last year chopper rates.
Last Year Helicopter Charges to Kedarnath & Hemkund
| From | To | Charges (One way) | Charges (Round Trip) |
| --- | --- | --- | --- |
| Phata | Kedarnath | Rs.2399 | Rs.4798 |
| Sirsi | Kedarnath | Rs.2470 | Rs.4940 |
| Guptkashi | Kedarnath | Rs.4275 | Rs.8550 |
| Govindghat | Ghangharia | Rs.2895 | Rs.5790 |
---
---
Published Date: February 28, 2023
---