Helicopter service to Hemkund & Badrinath
---
---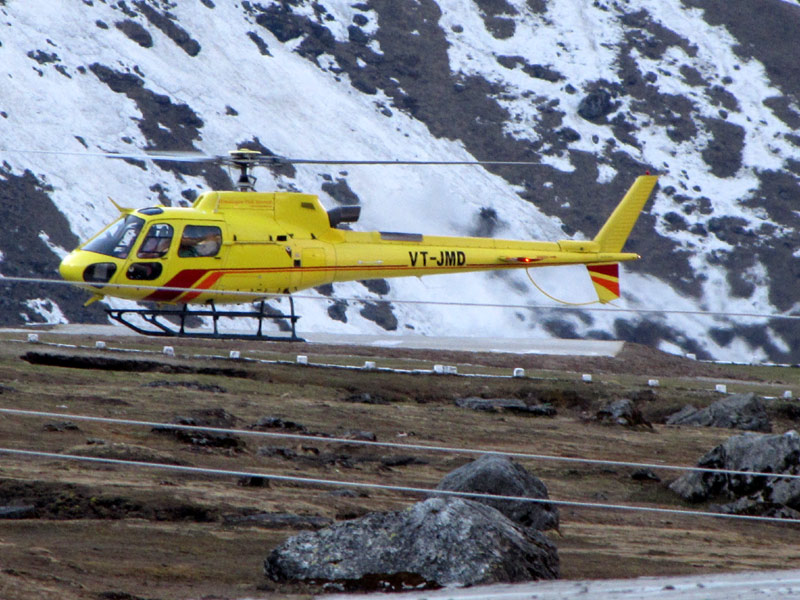 Char Dham Tour by Helicopter
---
---
Currently there is only one helicopter service to Badrinath and Hemkund. Only Air Deccan provides its services to both holy shrines. This service is being run between Govindghat to Hemkund and Badrinath.
Previously Pawanhans helicopter company also provided its services. But after the old helipad drained away, the new private helipad is constructed. Now only Air Deccan offers its services.
Several Helipads but No Services
However there is only one heli service to Hemkund and Badrinath, but there are several helipads in these locations. Badrinath has two helipads each of Army and Uttarakhand Govt. There are also one helipad each in Govindghat and Ghangaria. Joshimath too has two helipad, one of Army and other for emergency service. Charted planes can also land at Gauchar air strip.
Pilgrims visit Badrinath through Charter Flights
Many pilgrims from Delhi and other place visit Badrinath through their Charter Flights and helicopters, landed on Badrinath Govt Helipad.
---
---
Published Date: April 21, 2016
---
Add Comments and Suggestions or Ask Questions about "Helicopter service to Hemkund & Badrinath"
We would be glad if you can comment below and provide your valuable suggestions and feedback on Helicopter service to Hemkund & Badrinath. If this Helicopter service to Hemkund & Badrinath page have any wrong information/list or out of context content, then you can report us as well.
If you have any questions, you can also ask as in the following comments section. Our team will try to provide you answers/solutions.