IMA Trainee Officers to visit Kedarnath
---
---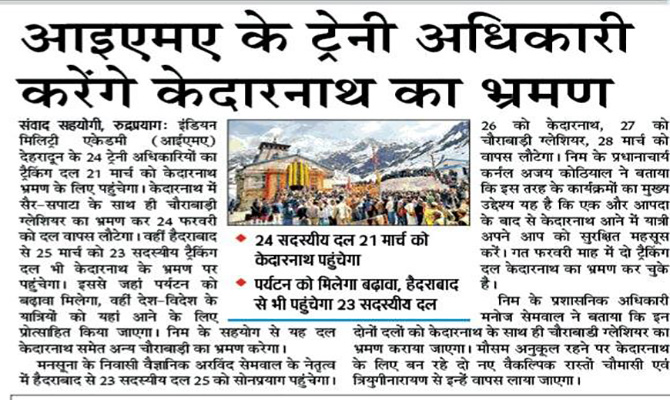 IMA Trainee Officers to visit Kedarnath
---
---
A trekking group of 24 Trainee Officers from Inidian Military Academy Dehradun is going to visit Kedarnath shrine on 21 March. The group will do sight seeing to Kedarnath and its earby places including Chorabari glacier. On 24 March, the group will go back to Dehradun.
Another group of 23 trekkers from Hydrabad will reach Kedarnath on 25 March. These groups will help to promote tourism and convey a positive to thw outside world. NIM will help these groups to trek around Kedarnath and nearby places like Chorabari glacier.
Hydrabad group will reach Sonprayag on 25 March and move to Kedarnath on 26 March. The plan is to visit Chorabari glacier on 27 March and return on 28 March. Principal of NIM, Col Kothiyal said that two trekking groups already visited Kedanath Dham in February month. The main reason behind these expeditions is to promote Kedarnath as the safe destination for pilgrims and tourists.
Thes two groups will visit Chorabari glacier and will return through two newly built paths to visit Kedarnath via Chaumasi and Trijuginarayan.
News Src : Jagran, Rudraprayag
---
---
Published Date: March 17, 2016
---
Add Comments and Suggestions or Ask Questions about "IMA Trainee Officers to visit Kedarnath"
We would be glad if you can comment below and provide your valuable suggestions and feedback on IMA Trainee Officers to visit Kedarnath. If this IMA Trainee Officers to visit Kedarnath page have any wrong information/list or out of context content, then you can report us as well.
If you have any questions, you can also ask as in the following comments section. Our team will try to provide you answers/solutions.